Celebrating the excellent care Beebe extends to our community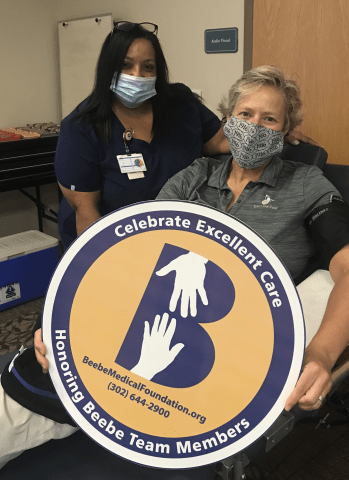 BY KAY YOUNG
Being a blood donor is an activity that is close to my heart. And, being a blood donor in a community like ours elicits an even more powerful emotion in me. I and several other Beebe Employees arrived at Beebe's Tunnell Cancer Center on the morning of October 22 to donate blood via a partnership that Beebe has with the Blood Bank of Delmarva. Appointments for Beebe Team Members to donate blood ran throughout the day – I was proud to be a part of this wonderful effort.
I started with Beebe Medical Foundation in January of 2020 just as news of the COVID-19 pandemic began to break. I then saw this community rally around its healthcare system in an incredible way. Over 4,700 restaurant gift cards were donated to support Beebe Team Members with the #CRUSHCORONA effort and tens of thousands of dollars in sponsorships and ticket sales were redirected to Beebe's COVID-19 Relief Fund when events had to be cancelled. Then the community raised over $96,000 with the Schell Brothers' "Project KUDOS" – and recently another $50,000 was raised with the Go Purple initiative to fight opioid addiction in Sussex County. Incredible.
I have also seen the gratitude that Beebe Healthcare has for the community. From offering free vaccination clinics (sometimes in the local Bookmobile) to partnering with organizations like the Blood Bank of Delmarva for local blood drives, Beebe and the Team Members that are here with me Friday to donate are demonstrating excellence in our care of the community.
I am donating blood to "pay it forward" for this community. My nurse, Allissia Tarpley, could not have been more caring, professional and jovial. In fact, the entire Blood Bank Delmarva team here at Tunnell Cancer Center was professional and grateful for the Beebe Team Members who were arriving to donate blood.
So, I would like to say THANK YOU to the Blood Bank of Delmarva team - - and a special THANK YOU to all of my fellow Team Members who (some of them on their day off) came to donate blood and give back to a community that continues to give so much to support us!
The Blood Bank of Delmarva has declared a blood emergency as levels have struggled to maintain normal supply levels. Beebe is doing its part for the community. Visit www.delmarvablood.org/ to do yours.
As a community-based, not-for-profit healthcare system, Beebe Healthcare depends on the generous support of the community it serves. To make a gift to celebrate the excellent care you or a loved one has received, visit Beebe Medical Foundation at beebehealthcare.org/beebemedicalfoundation or call 302-644-2900. Want to share your story? Contact Amanda Neal at [email protected].
---