Primary Care That Treats Us Like Family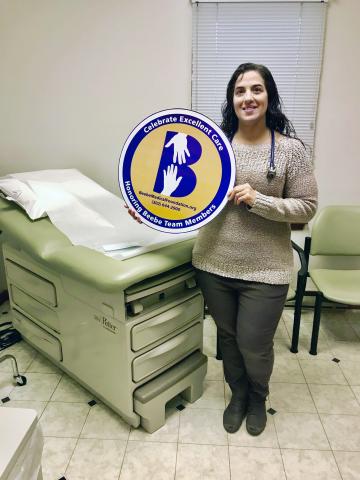 By Rose Ann Crosby
"I am writing today to express my overwhelming gratitude for my primary care physician, Kathryn Grinnen, DO, (pictured above) at Beebe Primary Care - Lewes. A couple of years ago my husband and I started seeing Dr. Grinnen. We found her extraordinarily refreshing as we were coming from a doctor who we felt could sometimes be less than sympathetic.
The care and concern we have experienced from Dr. Grinnen are beyond incredible. When I first started seeing Dr. Grinnen, I was experiencing medical conditions that involved a highly compromised immune system. Since then, my conditions have become more complicated but that never deterred Dr. Grinnen. She has proactively invested more time with me to help me understand everything involved, and she continuously collaborates with me in planning the right path for me to follow, all while providing special care.
I felt as though she dove into my case immediately.  She spoke plainly and honestly with me about my care and she continues to do so. She has been right by my side, guiding me to other specialists, running blood tests to clarify diagnosis and even calling other physicians directly to help me get the answers I needed about my care and potential next steps, etc. She takes her time with me during telemedicine and other phone interactions – never rushing to get off the call. She also messages me back in a timely manner and she does everything she can possibly do to help me.  
Dr. Grinnen is truly the most excellent doctor I have ever had. Proactive and sincere, it's obvious that no scenario is ever too complicated for her. I feel that Dr. Grinnen runs toward her patients to help solve their problems. I'm not being dramatic when I say that she treats my husband and I like we are her family. Her care has changed my life and I am convinced she is actually SAVING my life. It's an incredible feeling for me to know that she is always there for me and my husband.  Her office staff is equally as terrific – without fail, they are there to support us at every turn.
I could go on and on about how unbelievably caring, professional, brilliant and experienced Dr. Grinnen has been with my care. I hope this letter makes its way to her management at Beebe so that they are aware of the wonderful gem of a physician they have in her."
As a community-based, not-for-profit healthcare system, Beebe Healthcare depends on the generous support of the community it serves. To make a gift to celebrate the excellent care you or a loved one has received, visit Beebe Medical Foundation at beebemedicalfoundation.org or call 302-644-2900. Want to share your story? Contact Amanda Neal at [email protected].
---