Thrill-seeker thrilled with care at Beebe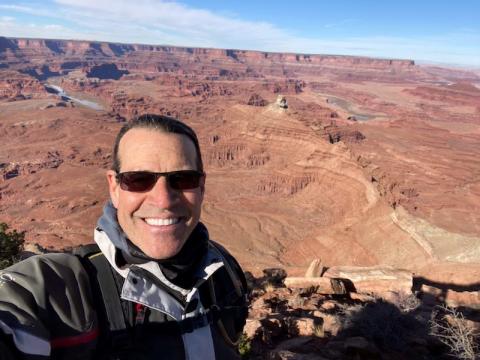 By John E. Spieker, MD
I recently retired after working at Beebe Healthcare for over 27 years. I came as a solo orthopaedic practitioner at the request of Dr. Jim Marvel in the early 1990s. When I retired, my group Orthopaedic Associates of Southern Delaware, had 10 providers. I started the merger with First State Orthopedics and now the combined group has offices all over Delaware and nearly 30 providers.
I retired after being diagnosed with a rare lung cancer, a form of Non-Hodgkins B Cell Lymphoma that was incidentally discovered during a cardiac workup. The diagnosis was confirmed by thoracoscopy at Beebe soon after the X-rays were reviewed.
This type of cancer is not surgically treatable and instead is managed with immunotherapy or chemotherapy infusions. I've been treated at Beebe's Tunnell Cancer Center, initially under the direction of Hari Peri, MD. I spend winters in Arizona and Beebe coordinates my care there with the MD Anderson Cancer Center.
I've managed to maintain an active lifestyle despite the disease. I've ridden motorcycles off-road through Bolivia, Peru, Ecuador, Baja, Argentina and Chile in addition to all over the western USA. Camped in the Andes and travelled across the Atacama Desert. Locally, I pursue bicycling with a few fellow cycling enthusiasts. While I keep a lower profile now, I'm still fairly well known in the community. After 14,000+ surgical procedures performed on locals, I always bump into a patient somewhere.
Speaking of patients, I've treated scores with cancer. I've seen the fear and apprehension in their eyes with their diagnosis. My advice has always been not to give in to the disease – that they should fight to maintain their lifestyle as long as possible.
As a former Beebe provider and someone who was known as a bit of an over-the-top adrenaline freak, I wanted to share that my treatment experience at Beebe was also over-the-top. At every infusion, I am cared for as an individual. Every member of the team – from reception to and through infusion to checkout/scheduling – looks me in the eye and addresses me personally. And that treatment is not "special" for me. I noticed that all patients are treated the same. It is evident that the team understands that that every person in their care is dealing with something beyond their control. If I were still practicing, I would hire everyone at the cancer center to work for me – they are that extraordinary.
I came to practice at Beebe because I believed my professional presence at this community hospital would make a difference. I knew the lifestyle on the shore certainly meant something to me. The quality of the medical staff at Beebe is exceptional, and I have been treated by more than just the team at Tunnell Cancer Center. Beebe is smaller and more personal but with "big-city doctor" talent. I am grateful for all that Beebe has been in my life, and I am grateful for everyone at Beebe who has cared for me. Thanks to you all.
As a community-based, not-for-profit healthcare system, Beebe Healthcare depends on the generous support of the community it serves. To make a gift to celebrate the excellent care you or a loved one has received, visit Beebe Medical Foundation at beebehealthcare.org/beebemedicalfoundation or call 302-644-2900. Want to share your story? Contact Amanda Neal at [email protected].
---