Sharp Eyes and Excellent Emergency Care at Beebe
By Patricia Parachini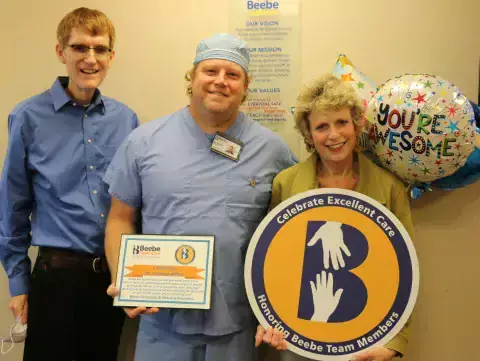 In September of this year, my husband, Bruce, was admitted to Beebe Healthcare's Emergency Department because we thought he was having another stroke. Back in April, Bruce suffered an acute occipital lobe infarction and an added subacute one about 10 days later.
Bruce was having the same symptoms as he had in the spring, i.e., loss of cognition and inability to read his phone. I was in a panic that this was happening to him again, after he had been recovering so well.
I called 911 and we were taken by ambulance from Bethany Beach to Beebe Healthcare in Lewes. The Emergency Department was crowded, since it was Labor Day weekend and many people needed medical attention.
To put our experience in context, we are from the Washington, D.C. area, and Bruce has seen many expert doctors. And, without a doubt, we felt that Jonathan A. Hilton, MD, provided Bruce with superior medical care. Not only did Dr. Hilton clearly understand what tests to run; he also kept us apprised of what he was doing and seeing with the testing. Ultimately, Dr. Hilton informed us that Bruce was not having another stroke, but likely just seizures, which can apparently mimic stroke symptoms.
We were so relieved to hear this! But it was the way Dr. Hilton and his team in Beebe Healthcare's Emergency Department treated us, kept us involved, ran the appropriate tests without a long wait, and got us answers very rapidly. All of this made us absolutely confident in the care and treatment we were receiving.
During the CT scan on Bruce's neck, Dr. Hilton noticed a nodule on his lung. This worried Dr. Hilton, and he told us that sometimes a stroke or seizures can be caused by another illness in the body. Dr. Hilton recommended Bruce have a chest CT scan before leaving the hospital. Though we have been to a plethora of doctors since April, with numerous tests run, not one of them told us about that nodule. We are so grateful for Dr. Hilton's sharp eye and belief that this nodule should be checked out. Thank you, Dr. Hilton.
We would be remiss if we did not add that the entire staff was excellent. Our thanks are extended to Beebe Healthcare's entire Emergency Department team who were so kind and caring. A special thanks to Anthony Powell, RN; Susie Hagan, RN; Rachel Laird, pharmacy technician; Erin Longo, PCT; and Matthew Kraft, CAT scan technician We feel very lucky to have encountered such talented and dedicated people. Thank you kindly for your outstanding care for Bruce, and we wish you all the best as you continue your medical careers for hopefully a long time to come!
As a community-based, not-for-profit healthcare system, Beebe Healthcare depends on the generous support of the community it serves. To make a gift to celebrate the excellent care you or a loved one has received, visit Beebe Medical Foundation at beebemedicalfoundation.org or call 302-644-2900. Want to share your story? Contact Amanda Neal at [email protected].
---