Beebe Saved My Baby's Life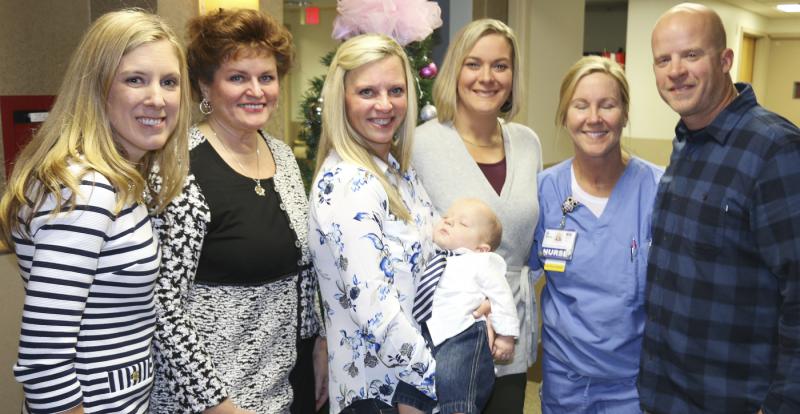 Some have said it takes a village, and indeed, a child needs a community to survive. So true in a healthcare community where it takes dozens of professional people to not only "well people" but to bring new humans safely into the village. The following story was submitted to Beebe Healthcare by Michelle Schaffer, a young mother who is also a team member at Beebe Healthcare. Michelle wrote the following story and titled it "This Little Shell of Mine." In it, Michelle gives thanks for the village aspect of her Beebe family.
"They told me everything was great! All my ultrasounds came back perfect, all my well checks fine, and he was a full-term baby. We were going to have our little boy – Easton Ross Falgowski. Two awesome nurses, Gretchen Hegwood and Candace Thune, assisted as I started pushing, but after three hours Dr. Steven Berlin thought I should go for a C-section. Dr. Wilson took over while Phil, Easton's dad, scrubbed up and away we went.
"Once I got to the OR suite they decided to make it emergent because Easton's heart rate went into tachycardia. Panic ensued as Phil witnessed a rush of medical professionals passing by him. He heard Easton's first cry out to the world but then complete silence, followed by a team of doctors quickly responding in emergency mode.
"Beebe saved my baby's life. Neonatal Nurse Practitioner Karen Smail stabilized him and started running tests to find out what was wrong. Dr. Telep read the echo and found it was TGA (transposition of the great arteries). His little heart was not sending oxygen to his organs.
"Dr. Fletcher decided to send him to A.I. duPont. Unfortunately, the heliport was down due to the storm we had that evening. My two nurses Gretchen and Candace, and respiratory tech Sonja Savage were helping to keep him stable. Even though their shifts had ended, they all elected to stay to assure Easton's stability.
"We were asked if there was anything they could do for us since it was going to be hours before A.I. duPont got here. Unsure of how the next couple of hours would turn out, we asked Chaplain Keith Goheen to baptize Easton.
"RN Laura Tolson of the ENIT Rapid Response Team came to my side a few minutes later, handed me a shell and showed me a video of Easton's baptism. They used this shell to pour the holy water over his head. This special little shell speaks of how awesome Beebe is! My Beebe teammates saved my baby and blessed him with his first sacrament. We could not be more grateful to be patients here, but also members of the team as well.
"Since I had a C-section, I couldn't go to A.I. duPont. I begged Laura to please let me see my baby before he left, for I had not seen or touched Easton yet. Some strings were pulled and they pushed this little precious baby past my room on the way out. I kissed my hand, reached my arm into the incubator, placed my hand on his forehead and wished him a safe trip.
"The following weeks were the hardest weeks of our lives. To watch such a small baby go through an intense heart procedure was just plain awful. However, we were blessed to have been with the 'best of the best' throughout our entire journey.
"We returned home with Easton, but a few short days later we needed to go back to Beebe's Emergency Department. This time I was able to watch the staff in action. Our wonderful nurse, Brynn Thompson, took such great care of my son. She was efficient and warm, making my experience as comfortable as possible. Amanda Ragland, Kyle Perry and Dr. Haldar all had their healing and helpful hands in on Easton's care. Emergency Department nurse Mary Mahoney held me and hugged me while patiently waiting for the AI team to arrive. It was another great success for Beebe.
"Our teammates in the Beebe Imaging Department pulled together to give us gifts, donate paid time off and provide meals. The Emergency Department staff also sent cards and gifts. And the hospital as a whole sent their loving prayers, thoughts and encouraging words to help us through it all. We love our Beebe family for all of their support."
Michelle's story clearly illustrates that it takes a village. Beebe's care of young Easton is a very powerful example of a young child's introduction to our village.
Beebe is proud to have been designated a Baby-Friendly Hospital. This recognition is given to healthcare facilities that reflect a commitment to the optimal level of care for infant feeding and mother-infant bonding. Beebe Healthcare is the first organization in Delaware to earn this international designation. Beebe's Women's and Children's services also provides a team of neonatal nurse practitioners who have advanced education and certification in diagnosing and treating illnesses and clinical expertise in neonatal and newborn care. The neonatal nurse practitioners provide 24/7 care to babies born at Beebe. Staffing a well baby unit with advanced neonatal practitioners is not typical for community hospitals. The addition of the neonatal nurse practitioners to the Women's and Children's care team is an example of Beebe's commitment to high-quality care for the people we serve in the community.
The Beebe Healthcare Family has a special tradition this time of year called Holiday of Life. We invite the community to give a gift in honor or memory of loved ones with a brilliant and shiny star that is placed upon a beautiful tree at our main Lewes campus. Your gifts to Holiday of Life will benefit our newborn babies in the Women's and Children's Department. One Holiday of Life tree with stars of loved ones names is located near the waiting area for labor and delivery, where anxious families await the arrival of a new member of their family. Another Holiday of Life tree is located on the main floor of the hospital near our Sunshine Café. To give a gift in honor or memory of a loved one and have a star placed upon a tree, go to www.beebemedicalfoundation.org/donate/holiday-of-life/ and make your gift today.
CAPTION: Baby Easton's "caring village" at Beebe Healthcare includes (l-r) Dr. Erin Fletcher, board certified in pediatrics; Karen Smail, neonatal nurse practitioner; beaming mom Michelle Schaffer, CAT Scan tech, with napping son Easton; Gretchen Hegwood and Candace Thune, registered nurses; and very proud dad, Phil Falgowski, CAT Scan tech.
---