Beebe Stories: Amanda Hutchison
This article is part of the ongoing series: Beebe Stories: In Their Own Words, which documents the lives of our team during COVID-19.
Image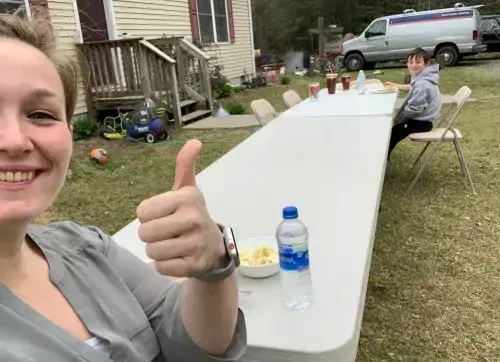 "My name is Amanda Hutchison and I work as a Medical Assistant at Beebe Wound Healing & Hyperbaric Medicine. In the beginning of March we started to hear the news about COVID-19 coming to Delaware. In fear I would soon be exposed to the virus, I packed my 7-year-old son up on March 14 and sent him to live with my parents.
This is very hard on both of us. I am a single mom and it has been me and him for most of his life. We have a very special relationship and have never gone longer than two days without seeing each other. Things are much different now. We make sure to FaceTime each other every day (at least once) and send occasional texts throughout the day.
There have been a couple of occasions where I have visited him on days when there was good weather. I would stay in my car while he sat in a chair at least 6 feet away. For Easter, I watched him dye eggs and wake up to the Easter Bunny's gifts over FaceTime. Then for dinner my awesome family set up a table outside that was 14 feet long – myself on one end and my son on the other.
This has been exceptionally hard on both of us. There have been many tears – on my end especially.
My main reason for sharing my story is because my coworkers have been here for me every step of the way. They've been my shoulder to cry on, the people I can talk to when I'm feeling alone, they have lifted me up in prayer, and most importantly, have become more of a family to me now then they have ever been. I even get calls and texts on the weekends just to make sure I don't need anything and that I'm doing okay. We have always been a tightly knit group here at Wound Healing, but recently we have gone above and beyond to come together and be there for one another.
I think this virus has tested, and continues to test our strength, in all aspects including physical, mental, and spiritual. I am beyond thankful for my team. I can't say enough good things about them.
I feel extremely blessed to work at Beebe."
 
---