"Beebe needs this $1,200 more than I do"
Image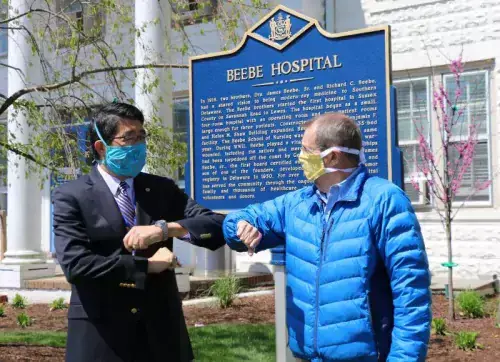 "I've retired twice. Once after a career as a naval aviator in 1986 and then totally in 2003. During the 2001-03 period, when we lived in Falls Church, Va., my wife Debby and I were in a group that rented a beach house here over the winter months. We liked this area so much that we bought a home here and finally moved in on Labor Day weekend in 2005 after Debby retired.
"A few months after settling in we came to the realization, as newly retired couples oftentimes do, that there is such a thing as a little too much togetherness. So, we began to search for volunteer opportunities and other endeavors that would get us out of the house and into our new community. One of the things I liked about my naval career was that there was a great sense of community, i.e., we all looked out for one another. If one of us deployed, the others made sure the spouse and children who remained stateside were included and not left to go it alone.
"After looking around, Debby began volunteering at the Tunnell Cancer Center front desk one morning/afternoon a week. As of this month, I've been volunteering one or two days a week with the wonderful people at the Beebe Medical Foundation for 13 years. Debby now works several days a month at the Cape Henlopen Food Basket and is a board member. We both have supported local charitable events and participated in walks for one cause or another. We make it a point to eat at restaurants that offer part of their profits to charities. This is how we support our community.
"During our nearly 15 years here, I have become one of Beebe's most grateful patients. I've used Beebe for all of my routine lab tests and screenings. Dr. Edmund Carroll installed new knees, Dr. Charles Curry put new lenses in my eyes, Dr. Richard Caruso removed my gall bladder, Dr. Roman Orsini booted my sprained ankle, Dr. Justin Elder treated my sinusitis, Dr. Richard Paul performed prostate surgery, Dr. Brian Costleigh directed my subsequent prostate cancer treatment program, and I continue to use Beebe Walk-in Care as needed. Dr. Amy Robinson, our longtime family physician who has treated me for a myriad of things, has recently become part of Beebe Family Practice – King Street Row.
"As you can see, I am one of Beebe Healthcare's most enthusiastic supporters. So, in the face of the current pandemic, I can think of no better way to support Beebe and my community than by donating my $1,200 U.S. Government recovery check to Beebe. They can put it to much better use than I can."
Dr. David Tam, Beebe Healthcare president and CEO, commented on this generous gift: "To think that a Beebe Medical Foundation volunteer and retired Navy veteran is giving back his own government stimulus check to Beebe is truly inspirational. As I spoke with Steve he shared, 'In the Navy, we are told to take care of our own. Knowing that our local healthcare system is in the hands of a former Navy commander makes me feel at peace. I know "Captain Tam" will use my gift for the COVID-19 battle.' What an amazing donation!"
As a community-based, not-for-profit healthcare system, Beebe Healthcare depends on the generous support of individuals, local businesses, corporations and private foundations. Please consider supporting Beebe. Donations can be made by calling Beebe Medical Foundation at 302-644-2900. If you would like to share your story about the excellent care at Beebe, contact Amanda Neal at Beebe Medical Foundation, [email protected]
---