Dr. Tam: Celebrating the Volunteers on Our Team and in the Community
Image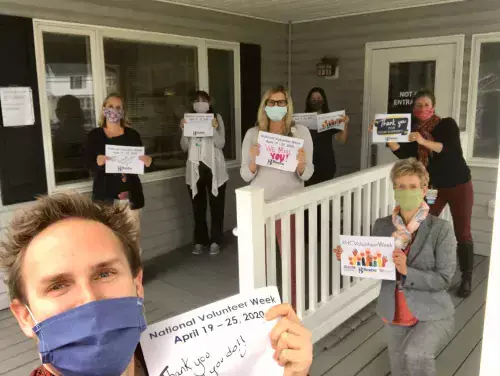 It's a very special week to celebrate what makes Beebe and this community so special – National Volunteer Week.
We celebrate Beebe's 500-plus volunteers during this week as they continue to help us during this time by staying home and following the State and CDC guidelines.
Beebe volunteers do so much for us. They help visitors find their way, direct phone calls, and so much more and always with a smile. I know our volunteers have been supporting us from home as best as they can. I cannot wait to get through this pandemic to meet with them and work alongside our volunteers.
But during this COVID-19 pandemic, I have also seen what makes the communities in Sussex County so special.
Businesses donating a whole day of sales, gift cards, or their resources to help Beebe. There's also been the amazing sewing community, who have produced nearly 1,000 cloth masks for our team members. Also those who have produced 3D printed masks or face shields – a warm thank you from everyone here at Beebe.
The time, effort, and materials that you have volunteered without hesitation is a testament to the good will and continues to blow me away since my arrival a little more than a month ago.
We continue to support our team members on the front lines, supplying them with CDC-approved personal protective equipment as they take care of our community. We could not do this without their heroic efforts day in and day out.
All of this would not be possible without your support. The COVID-19 Relief Fund has raised more than $600,000 in the fight against the novel coronavirus. These funds have helped us acquire PPE, train staff to prepare for the surge, and obtain new testing capabilities and therapies while our census has been lower due to the postponement of elective procedures.
Thank you for this support and we continue to need it to fight this pandemic.
If you are willing to help, please contact the Beebe Medical Foundation at 302-645-2900. If you wish to donate or make items, please click on the items tab. Before sourcing these items, please contact our Community Services Manager Kim Blanch at Population Health. She may be able to lend insight into what resources are needed most right now, as it changes on a daily basis. She can be reached at 302-645-3337 or [email protected].
Thank you for helping Beebe continue to accomplish our mission, as we aim to take care of all the people residing, working, or visiting the communities we serve.
The true spirit of volunteerism is alive and well in Sussex County. I am proud to be a citizen of this amazing community and committed to ensuring that Beebe Healthcare is here to serve for another century.
---