Pam Smith Organizes Grassroots Cloth Mask Makers
This is part of our continuing series: Beebe Stories: In Their Own Words
Image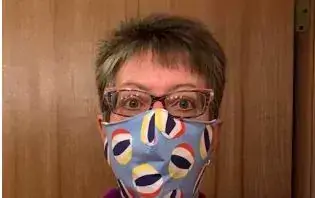 Like so many others, Pam Smith, a nurse at Beebe Healthcare, was troubled as she watched the spread of COVID-19 across the globe.
"I thought, 'this is coming,'" says Pam, an avid quilter. "And I thought, 'I can make masks.'"
"Quilters have a stash. We have everything we need in our homes to sew – we don't have to go anywhere," she says. "Many hands make light work, and busy hands help settle the mind and give you something to do."
Pam reached out to two local quilting guilds for help in making masks – the Ocean Waves Quilt Guild and the Delaware Modern Quilt Guild – and was overwhelmed at the response. To date, the two guilds have made more than 4,000 masks for Beebe, and an additional 4,000 masks for a local poultry plant.
Pam also developed a new mask design without a center seam and created a template for it, which is now available for download on Beebe's website. It has been downloaded by people as far away as Atlanta and Virginia, and is even available for download on the website of a UK fabric manufacturer.
"I just felt as a nurse, during this pandemic, I could offer some help, and to not do that would be wrong," she said. "It's not just me doing it, it's the whole network."
 
---