I've been diagnosed with breast cancer, now what?
Image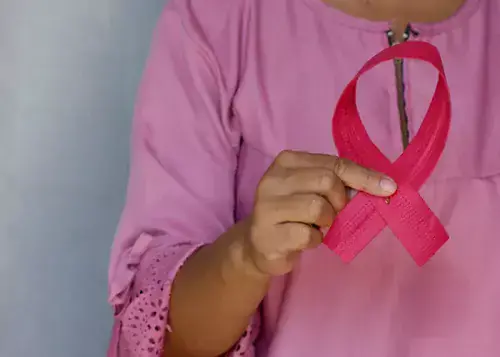 It is rare for a woman or a man to receive a cancer diagnosis and not be surprised by it. The human condition is that we are naturally optimistic creatures. We hope for the best.
So, when a cancer diagnosis comes through, we are often shocked, speechless, and unsure what to do next.
Breast Cancer is Manageable
Each year, more than 1.4 million Americans hear the words, "You've got cancer." And, for many of them the reaction is the same – shock and questions. 
If you have been diagnosed with breast cancer, the first thing to remember is that breast cancer is usually very manageable and, in most cases, women are able to keep their breasts. Fewer than 20% of women diagnosed with breast cancer need to lose their breasts. And, fewer than 20% need to have chemotherapy.
Long-term survival is 95% for the most common types of breast cancer.
First Steps After Diagnosis
The first thing you should do is talk to your primary care provider about referring you to a trusted breast surgeon, ideally one who works with a dedicated and integrated team of professionals from Medical Oncology, Radiation Oncology, Genetic Counseling, Nurse Navigators, and Breast Imaging professionals. 
When you see your breast surgeon, come prepared. 
Complete a three generation family history, focusing on family members who had any kind of cancer, but particularly breast, ovarian, and pancreatic. 
Bring a copy of your pathology report or confirm that it has been sent electronically. 
If your breast imaging was done at another institution, arrange to have all images and reports sent electronically to your breast surgeon. If this is not the first time you have been diagnosed with breast cancer or ductal carcinoma in situ, bring with you whatever you can that describes your previous pathology findings and treatment. 
It is also helpful to bring a friend or family member with you to the appointment. Sometimes it is difficult to process the large amounts of information that are likely to be discussed.
Most of all, take a deep breath. You are going to be alright. At Beebe Healthcare, an experienced team will be with you every step of the way. 
Who is on Your Breast Cancer Care Team?
Once you are diagnosed, you will start to get to know your care team. You are the captain of your team, but Beebe Healthcare is proud to offer a vast array of care and support team members for our patients. Our integrative cancer care approach prioritizes treating you as a whole person—physically, mentally, and emotionally. Your care team members will work with you to ensure all your needs are met. 
Breast Nurse Navigators: Our nurse navigators are with you every step of the way to answer questions, provide guidance, and help you navigate the medical care you need to overcome cancer.
Medical Oncologists & Hematologists: Beebe medical oncologists and hematologists are physician teams you will meet with to understand what treatment plans will be initiated for your care. They will be available to answer your technical questions and to talk to you about how you are feeling throughout your treatment.
Radiation Oncologists: These physician providers will work with you on your radiation treatment if that is recommended. Radiation oncologists help pinpoint the area of cancer to treat it with radiation therapy.
Surgical Oncologists and Breast Surgeons: Beebe's surgical oncologists and breast surgeons will provide the surgical procedures recommended for you to treat your specific cancer. You will meet with them several times throughout your treatment and they will talk to you about what to expect from surgical procedures.
Support Services: These services includes integrative health, nutrition, social work, palliative care, etc. Support services are comprised of staff such as nurses, techs, dietitians, coordinators and outreach caregivers who may be needed to assist you.
Office Staff: In many cases, the office staff will be your first call. You will work with them to schedule appointments, change appointments, and get updates when necessary.
Building Your Support Network
One of the best steps you can take after diagnosis is to talk to your family and loved ones. You will want to have an excellent network of supportive friends. 
Talking to your loved ones about your diagnosis can feel impossible. However, it is best to share this information as openly and early as possible. Thinking about who will be in your support network early on can save you stress and concern later during treatment.
You will want to look for people in your life who are open, caring, confident, and who have certain skills or traits. You may want to consider the following:
Will they be open to your feelings and not push you?
Could they cheer you up on a bad day?
Are they supportive of you and your decisions?
Do you feel comfortable spending an extended amount of time with this person?
If you feel you do not have enough support available to you, talk to your breast nurse navigator about other resources that might be available in our area.
 
---