Beyond thrilled with my care at Beebe
By Karen Pla
Image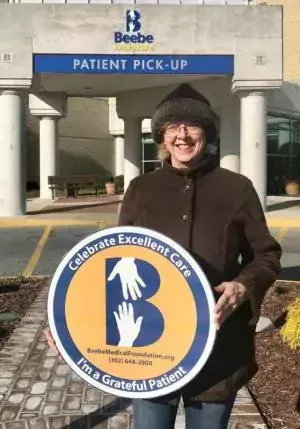 Recently, I was hospitalized for emergency surgery, and I was beyond thrilled with the level of care I received from Dec. 8 to 11 at Beebe. It was flawless and never wavered, from reception to admitting to the emergency room, operating room, recovery and ultimately home. Beebe employees are all heroes and saints. I felt the employees in every department were extremely skilled and professional in the performance of their jobs, and also very attentive and caring to the patients.
Everyone was very proficient in completing tasks and took responsibility for their actions. They worked as a team and were respectful to the others in their departments, as well as those outside their departments. I observed warm and friendly interactions among staff and never heard a critical or harsh word. In fact, I thought given the circumstances (i.e., pandemic and holiday season), everyone seemed to be in good spirits and embraced their day with a sense of commitment and positive attitude.
In reception, I met wonderful staff who processed me through to admitting. I would like to acknowledge the anesthesiology team that I saw for two surgeries; they were all terrific. The radiology team that performed my scans earned a big thank you as well.
I did not get all of the names for the admitting and emergency room doctors, but the nurse I fell in love with was Oji Gibson. The second-floor nursing staff also deserves a huge shout-out. I was on the Maternity, Pediatric & Post-Partum Ward and was cared for by some amazing nurses. Thank you to Kristen Mueller, Lydia Martin, nursing assistants Carolyn Spence, Chelsea Bailey, Janae Taylor, Nicky Ferebee, charge nurses Amy Bonkowski and Jen Gray, as well as to hostess Shelia Fosque-Manuel and housekeeper Roberta Thompson.
Last but not least, I would like to thank my operating room team, which included Dr. Mark Wilkinson, Dr. Ramakrishna Tatinei, Dr. Kristie Zangari, Dr. Stephanie Li, and Adult/Gerontology Nurse Practitioner Kimberly Travis.
COVID protocols were extraordinary. I never once felt at risk for infection or unsafe during my stay. Given that I was unable to have my husband present once I was admitted, I also did not feel isolated or alone at any point while hospitalized.
I commend Beebe leadership for leading, operating and managing a first-class hospital. My husband and I moved to Lewes a year ago from the Washington, D.C. area, and we are very familiar with exceptional medical, hospital, and nursing care. In our opinion, Beebe Healthcare is right up there with the best of the best. You have an amazing facility and team dedicated to providing great care to the community, and for that I am truly grateful. Great job all the way around!
As a community-based, not-for-profit healthcare system, Beebe Healthcare depends on the generous support of the community it serves. To make a gift to celebrate the excellent care you or a loved one have received, visit Beebe Medical Foundation at beebemedicalfoundation.org or call 302-644-2900. Want to share your story? Contact Amanda Neal at [email protected].
Caption:
Karen Pla thanks all the Beebe team members who contributed to her excellent care during a recent hospitalization.
---