Get to Know Dr. James Spellman, Oncology Surgeon
Image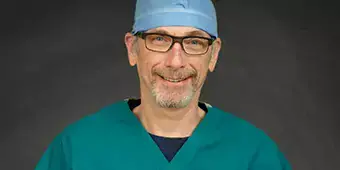 James Spellman, Jr., MD, FACS, FSSO, is a surgical oncologist with Beebe Healthcare. He sees patients at Beebe Surgical Oncology at the Rehoboth Health Campus on Route 24. 
He is board certified in surgical oncology and general surgery. He is the Chief of Surgery at Beebe Healthcare.
He is a Fellow of the American College of Surgeons and of The Society of Surgical Oncology. Dr. Spellman earned his medical degree at Jefferson Medical College in Philadelphia. He completed his residency at Stamford Hospital and his fellowship at the Pritzker School of Medicine, University of Chicago.
He specializes in advanced surgical treatment for cancer. He performs procedures at the Margaret H. Rollins Lewes Campus.
Advanced Treatment for Ovarian Cancer 
Ovarian cancer causes more deaths than any other type of female reproductive cancer, though it is not common. Only about half of women who are diagnosed with ovarian cancer survive five years or longer.
Dr. Spellman, along with Beebe Women's Health OB/GYN Dr. Steven Berlin, are among a small group of oncologists and gynecologists across the nation who perform a surgical procedure that, when used as an additional treatment to conventional treatments, already is showing some positive results in the treatment of ovarian cancer.
The procedure is called hyperthermic intraperitoneal chemotherapy or HIPEC and entails rinsing the inside of the abdomen with a warm, chemotherapy liquid that attacks cancer cells left behind after the tumor has been removed. It can take up to 20 hours and is performed by two surgeons working together.
Drs. Spellman and Berlin perform the operation together in Beebe's operating rooms in Lewes. Although in 2006 the National Cancer Institute encouraged all cancer centers to offer this treatment, this operation still remains mostly in the hands of university and research medical centers.
Spellman is one of 16 authors of an article that appeared in the January 2010 issue of the International Journal of Gynecological Cancer that reported on the effectiveness of the therapy. The article is titled "Hyperthermic Intraperitoneal Chemotherapy in Ovarian Cancer." 
Spellman and the other authors reported case statistics from their medical institutions that occurred between August 2005 and July 2008. There were 141 patients whose case information was included in a databank housed at the Division of Gynecologic Oncology at James Graham Brown Cancer Center at the University of Louisville. Cyril William Helm, MB, BChir, an associate professor based at the university, was lead author of the article.
 
---