Get to Know: Dr. Katie Johnson, Director, Palliative Care
Image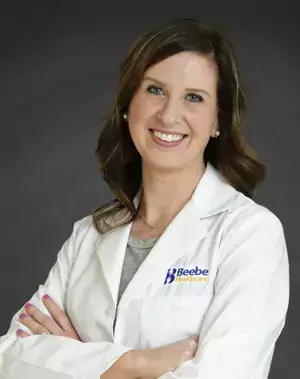 "I knew from a young age that I wanted to go into medicine," said Katie Johnson, DO, Director of Beebe's Palliative Care program. "I was fascinated by how the human body worked. I wanted a career where every day would be different, which would allow me to learn and grow daily."
Dr. Johnson earned her bachelor's degree in sociology and then earned her medical degree at the Philadelphia College of Osteopathic Medicine. She went on to do internal medicine and palliative care residencies. She joined Beebe Healthcare in 2017 and helps connect oncology patients with the education and resources they need during treatment.
"Doing outreach has always been part of my passion. During my undergraduate training, I was able to do a public health path and complete my senior thesis in Costa Rica. Then during medical training, I was able to do a medical mission in Ecuador," Dr. Johnson said. "These experiences have been invaluable to me during my career development and they make me a well-rounded clinician."
Dr. Johnson was able to complete a fellowship in palliative care during her time at Baylor University Medical Center where she trained under Bob Fine, MD, who has worked nationally with the renowned Atul Gawande.
"Being able to bring this skillset to Beebe and develop the palliative care program here while expanding our oncology program has been very rewarding," she said. "People often think palliative care is the same as end-of-life care, but it isn't. Patients can receive palliative care support for years and it has been shown to really impact their treatment in a positive way."
Dr. Johnson grew up in Pennsylvania, however she spent some summer vacations in Dewey Beach, which introduced her to Sussex County.
"It was always my dream to live here eventually," she said. 
After working in Texas for a number of years, getting married, and having two children, she and her husband decided it was time to move back to the East Coast to be closer to family.
"I have seen the development and growth at Beebe and we continue to grow. Being able to embed the palliative care program within our cancer program has been incredible for our patients. We are the only oncology program in southern Delaware offering these services," she said. "Having palliative care as part of the program allows us to work closely with families and patients. Studies have found that having palliative care built into a program actually allows patients with stage 4 cancer to live longer. I am proud to be able to provide this service and education to our patients here at Beebe."
---