Minimally invasive heart surgery gives 'overnight results'
Image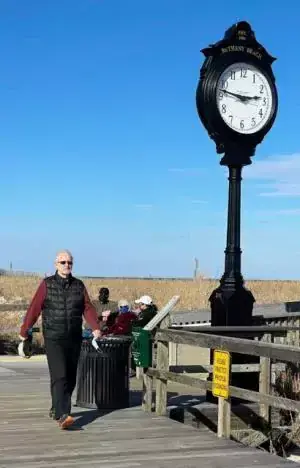 Rich Hoffheins is not the sort to sit around.
During his career in Washington, D.C., Rich not only worked full time for the federal government, he also performed with the Washington National Opera, played the French horn, and was an avid jogger.
"I've always had two or three jobs, ever since high school," Rich said. "I am the sort that likes to be busy and keep moving."
Rich was able to retire early, and he moved to Bethany Beach where he continued to jog regularly. He also enjoys taking his golden doodle, Max, for walks on the boardwalk and around town.
As the COVID-19 pandemic hit and Rich's 69th birthday loomed, he started to feel depressed.
"Since 1985, I have dreaded turning 69 because my Dad died of a massive coronary event at 69. And his brother also died of a heart attack," Rich said. "For years, I have been seeing a cardiologist because of family history, and I have heard my doctor talk about my aortic stenosis as it progressed from mild to moderate, and last year, to severe.
"I knew it was an issue when I noticed I wasn't moving as easily as I once was. I was fatigued. And then, when the depression was coming on, I knew it was time to take action."
The TAVR procedure
Rich's cardiologist, Dr. Rajinder Prasad, explained about the TAVR procedure.
"TAVR stands for transcatheter aortic valve replacement, and Beebe is proud to offer this advanced and minimally invasive procedure for those who need a valve replacement," Prasad said. "Rich was an excellent candidate for this procedure because we had been monitoring his condition for some time, he was healthy, and his heart condition was starting to affect his quality of life."
Prasad referred Rich to interventional cardiologists Ehtasham Qureshi, MD, and Mouhanad Freih, MD, for further management.
After evaluating Rich and completing his basic workup, Qureshi and Freih deemed that Rich was a very suitable patient for TAVR. They performed the procedure in the Cardiac Cath Lab where the new heart valve was threaded through his artery in the thigh up into the heart. Once in the heart, the new valve was carefully placed.
Qureshi explained that TAVR procedure has revolutionized cardiac practice. Initially, this procedure was reserved only for elderly and fragile patients who could not tolerate a major cardiac surgery. However, after tremendous success, ease of doing it, improvement in technology, and convenience for the recipient, this procedure is now available for most patients.
"We feel very blessed that we have the expertise and ability to offer this procedure to our patients in Sussex County," Qureshi added. "We have developed a very talented team, and we are happy to have the support of the hospital and community."
"This procedure is innovative because it allows us to do the procedure with very small incisions. In the past, a patient might have needed to have his chest cracked open to have a valve replacement. This allows our patients to recover more quickly," Freih said.
Rich agreed, adding: "When my dad and uncle were alive, they likely would not have survived the surgery to replace their failing heart valves. The TAVR procedure is a godsend for people like me who want to get back to enjoying our lives without a long recovery."
When Rich woke up in the Intensive Care Unit at Beebe after his TAVR procedure, there were many medical team members in his room.
"I woke up, and there was everyone. I felt like I was famous," Rich said.
Beebe's TAVR team uses a multidisciplinary approach featuring interventional cardiologists, cardiology procedure teams, Beebe's cath lab team, and Beebe Cardiothoracic Surgery. Cardiothoracic surgeon Dr. Ted Stephenson assisted during Rich's TAVR procedure.
Beebe Cardiothoracic Surgery offers a dedicated TAVR coordinator, Brian McCarthy, PA-C, who is able to answer any questions about the procedure via an online form available at beebehealthcare.org/form/tavr-information.
Rich's care team told him the TAVR procedure was a success, but during the procedure, additional issues were found with his heart, and he subsequently needed a permanent pacemaker also.
"I tell you, when I got home from Beebe, I felt like a new man. Over the course of the past decade, I noticed myself slowing down. It was years of progression. But, with the TAVR procedure and the pacemaker, I experienced overnight results. I was back to feeling like I did 10 years ago," Rich said.
Back to jogging on the boardwalk
Rich started physical therapy while in the hospital and continued it after he went home. He soon was back to speed walking on the boardwalk and enjoying strolls with Max, who slows Rich down because, he said, "Max has to stop to check on all the news. This is how dogs use Twitter – they catch up on the news via the smells."
Rich was also able to start jogging. He started at a slow pace and has been following all the recommendations of his doctors and care team.
"People are shocked when I tell them I am back to jogging. Everyone keeps telling me to be careful, and I assure them I am only doing what my Beebe team tells me I can do," Rich said. "It just feels amazing to have my energy back. I really can't say enough about my cardiologist, Dr. Prasad, and the entire interventional team at Beebe. I am so grateful to be alive, and I thank them for my new health and vitality."
Learn more about Beebe interventional cardiology and the TAVR procedure on the Cardiology page.
As a community-based, not-for-profit healthcare system, Beebe Healthcare depends on the generous support of the community it serves. To make a gift to celebrate the excellent care you or a loved one has received, visit Beebe Medical Foundation at beebemedicalfoundation.org or call 302-644-2900. Want to share your story? Contact Amanda Neal at [email protected].
---