Proud to be First Patient at New Specialty Surgical Hospital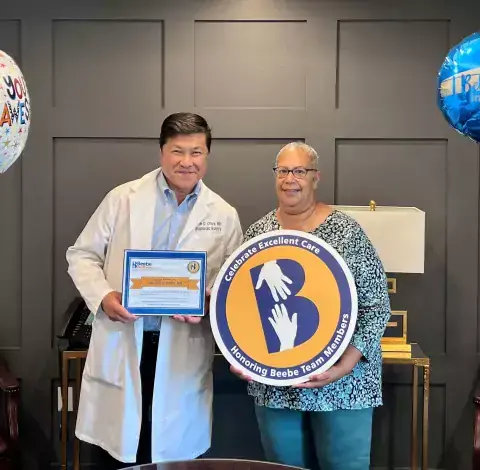 By Sean Flanigan

When Rosella Gray first stepped into Beebe Healthcare's Specialty Surgical Hospital on the Rehoboth Health Campus, she was walking through as a guest. She toured the new building with a community group, but in just a couple of months, she would get a call from Premier Bone & Joint Care scheduling her to be first patient to have surgery at the new hospital.
Rosella has been a nurse for 20 years and for the last five years, she has worked for Beebe in the Population Health Department. She said that although she had several emotions walking into the new facility the day of her surgery, the biggest emotion was, "I was really happy, really proud to be the first patient!"
This would be her second knee surgery done by Dr. Wilson Choy and, in addition to being honored to have her surgery at the new center, she also said she was "at great ease with Dr. Choy."
"Dr. Choy is great because he is easy to talk to, he listens, and he is very skilled," said Rosella, "There were times before the day of surgery that I needed quick answers to questions, and I would leave a voicemail with the office. Within an hour, someone from Premier called me back and addressed all my concerns."
Dr. Choy was truly there for Rosella every step of the way and when the date of her surgery rolled around, she and Dr. Choy would be the first procedure done at the new Specialty Surgical Hospital.
Like many surgery patients, much the day is a blur due to anesthesia, but Rosella recalled many of the comforts that the Specialty Surgical Hospital offered, like the tasty food, private overnight rooms, and red-carpet treatment rolled out.
"It wasn't even because I was a team member because I didn't know everyone there. That's just Beebe at its best," she said.
The Specialty Surgical Hospital is packed with the latest technologies to streamline operative care for patients with a wide range of medical needs, from bariatric and breast procedures to orthopaedic surgeries. The $124 million, four-story, state-of-the-art surgical hospital ensures patients with scheduled surgeries do not need to compete for services with more acutely sick patients and emergency patients at a general acute-care hospital. Dr. Choy and other surgeons will be able to perform both minimally invasive and robotically assisted surgeries at this new surgical hospital.
Now, six weeks after surgery, Rosella is feeling great and getting better every day. She is very grateful for Dr. Choy and his team. Rosella is already is hoping to get back to her work with the Population Health team.
As a community-based, not-for-profit healthcare system, Beebe Healthcare depends on the generous support of the community it serves. To make a gift to celebrate the excellent care you or a loved one has received, visit Beebe Medical Foundation at beebemedicalfoundation.org/donate or call 302-644-2900. Want to share your story? Contact Amanda Neal at [email protected].
---