Get to Know: Kim Westcott, Oncology Dietitian
Image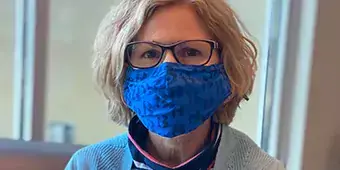 "I was always interested in health and wellness and wanted to do something to help people," said Kim Westcott, MSN, RD, CSO, LDN, Beebe's board certified oncology dietitian. "Both of my parents faced cancer, so working with oncology patients feels very personal to me."
Kim grew up in Seaford and attended college, planning to go into biology. After her sophomore year and realizing she would need to go to graduate school right away in order to get a job, Kim's mom suggested she go talk to the school's nutrition and wellness team.
"After talking to the campus nutrition team, I decided to transfer," Kim recalls. 
Kim was completing her training in dietetics and working at Temple University in the outpatient when she got a call from Kathi Fryling, director of nutritional services at Beebe.
"A friend of mine had given her my name. She called and talked to me about coming to Beebe to work as an outpatient dietitian." Kim said. "I jumped at the opportunity because not only would I be helping patients at Beebe, but my parents also wanted me to come closer to home." 
It was Joy Bartell who got Kim involved with oncology services. Kim began working for the oncology services department just a few hours each week which evolved into a few days each week.  
That was more than 27 years ago. Kim is now Beebe's full-time oncology dietitian, working at both Tunnell Cancer Center in Rehoboth and at the South Coastal Cancer Center near Millville.
"The majority of my patients are in active treatment, but I am also seeing patients who have completed treatment who are coming back to me asking for tips to improve their nutrition and create a new lifestyle after cancer," Kim said. 
During treatment, the two most common concerns for oncology patients are a lack of appetite and a loss of taste.
"I often work with patients to help them learn to enjoy food or find new foods that taste good to them during treatment," Kim said. "I truly enjoy working with all the patients here. They become like family and it is a success for everyone when they are able to ring the gong at the end of treatment."
Kim lives in Rehoboth Beach with her son, Matthew and their dog, Evie and cat, Puffen. 
"I love what I do at Beebe and I love living in this community. It is a great place to raise a family and has easy access to larger cities like Philadelphia and Washington, .," Kim said. "The beach and water provide so much relaxation and peace."
Tips for healthy eating:
Focus on fruits and vegetables
Add whole grains like brown rice, farro, quinoa
Include some lean meats like chicken and turkey
Use heart-healthy fats: olive oil, avocado, nuts and seeds
The Mediterranean diet is repeatedly named the healthiest diet so it is a great place to start if you are looking to eat healthier.
 
---