Great Care at Beebe's South Coastal Emergency Department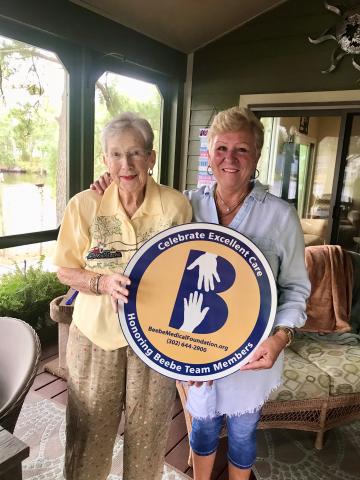 On a nondescript Monday in late August, I was working at my desk in my home office when I heard a strange noise from my kitchen. I got up to see what it was and about three steps into my journey I realized that my right foot was completely asleep. I felt the numbness as rolled my right ankle and fell on it, hearing a crunching noise as I went down. I knew this was not good. The pain in my ankle quickly drove the sleep 'numbness' away and I crawled out of my office to retrieve my cellphone.
I called my neighbor, Diane Wheeler. I told her that I thought I had broken my ankle because I couldn't stand on it. I needed a ride to the emergency room.
Neighbors in Bethany Beach for 21 years, Diane and I had come to rely on each other for a multitude of neighborly chores and appointments during COVID. Although, typically, it was me offering help to Diane, I was grateful to have her there for my own moment of need! Luckily, I had an old pair of crutches in the closet – yes, I've done something like this before – so I was able to get myself into Diane's car for the ride to the emergency room.
The joy was that Beebe's new South Coastal Emergency Department was only minutes away!
As a bit of history, I'm very familiar with Beebe Healthcare. I served as the Executive Director of Beebe's Tunnell Cancer Center for 17 years. I have had years of personal experience with care of all kinds at Beebe. I donate regularly to Beebe and currently serve as the chair of the Jean and Joan Fund Committee which has raised funds for Beebe's Oncology Services for over two decades.
So, even though I knew I would receive excellent care at the South Coastal Emergency Department that day, the actual care I received exceeded even my expectations. I was fetched from the car immediately with a wheelchair and Jeanette Corsaro, RN, did my triage intake. Diane was able to accompany me to the ED private cubicle which made the experience much more comfortable. Jerome Lacinski, the nurse extern assigned to me, could not have been more professional and pleasant as he did the initial assessment. I never had to move from the lounge chair/bed that I was in the entire time including for the X-ray of my foot. X-ray tech, Peter Zingone, used a portable X-ray machine to image my ankle right where I was!
Kelly Barnes, PA, was back within minutes to let me know that, yes, my ankle was broken. She said the fracture was hairline and I would not need a cast. I would, however, be relegated to wear a very "stylish" boot for the next few weeks to help it heal. In fact, every single person I encountered during this episode was just terrific. I was in and out in less than two hours.
So, this letter is a heartfelt THANK YOU to Beebe Healthcare. Your South Coastal location saved me a very uncomfortable car ride from Bethany to Lewes. Your team at the South Coastal Emergency Department provided me with excellent care using state-of-the-art technology. I was kept comfortable and informed and both Diane and I were treated with kindness and compassion.
It's been about 3 weeks since my ordeal. My follow-ups have been with Amanda Moore, PA, in Dr. Wilson Choy's office. I was given an appointment within 24 hours of my ED visit. A big thanks to the efficient staff and Amanda for her for her capable and informed advice. My ankle is doing great and I'm confident that I'll not have to miss the cross-country driving trip that I have scheduled for late October! 
Many thanks to Beebe – and to all who were involved in my care!
As a community-based, not-for-profit healthcare system, Beebe Healthcare depends on the generous support of the community it serves. To make a gift to celebrate the excellent care you or a loved one has received, please visit Beebe Medical Foundation at beebemedicalfoundation.org or call 302-644-2900. Want to share your story? Contact Amanda Neal at [email protected].
---