Virtual PT Kept Willis Going During COVID-19
Image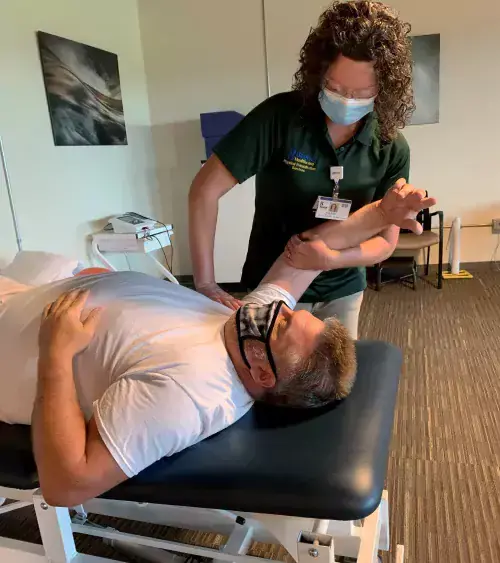 Willis Dougherty was only 53 when he had a stroke. The tough-guy machine mechanic was working near Philadelphia when he felt that things were off. He lost strength in his arm while working on a vehicle.
"I asked a coworker – have you ever lost strength while working," Willis recalls. "The coworker says yes, it happens to everyone."
Willis kept working, but around 4 p.m., he decided to tell his boss he was going to drive to the hospital. The nearest hospital was Chester Crozer and it was there that Willis learned he had experienced a stroke.
Sussex County Native Returns Home
Willis grew up in Sussex County, graduating from Sussex Central High School. He was trained as a mechanic and moved to Pennsylvania. After his divorce, he decided to return to his roots, settling in Pot-Nets in Long Neck, near Millsboro.
He met Lisa Fisher and the two are now engaged.
Willis continued to travel to Pennsylvania for work, often staying up there during the week and returning to Long Neck for weekends. 
After his stroke, Willis had no use of his right arm – his dominant side. He returned to Pot-Nets to do outpatient physical and occupational therapy at Beebe Physical Rehabilitation Services in Georgetown. He regained some strength, but then suffered from frozen shoulder due to an injury.
He had to stop his recovery in order to have shoulder surgery.
"It was a hard time. I am young but feel so helpless because there are things I just can't do anymore. Learning that I could not work again was really rough for me," Willis said.
After his shoulder surgery, he was determined to recover some strength in his arm and hand.
"I knew doing the therapy was the only way I was going to get some use of my arm back, so I was dedicated to regular sessions with Beebe Physical Rehab," he recalled.
Then COVID-19 hit.
"When I got the call that we could no longer do in-person physical therapy, I immediately asked what I could do at home. I had heard of others who stopped doing the therapy and lost all their progress. I didn't want that to happen to me," Willis recalled.
"Sharon, my physical therapist, was quick to tell me that I could still do the work at home. She and Jen Guerin, OTR, my occupational therapist, gave me tips and exercises to do at home. I would meet with them virtually to discuss my progress," Willis said.
After a couple months, Sharon Sullivan, PT, and Jen Guerin, MS, OTR/L, told Willis he could return to do in-person therapy if he wanted. 
"I jumped at the chance. The team at Beebe has been incredible for me. I am getting stronger every day and they also support me mentally by telling me that I can do this … by motivating me," he said.
"Willis is really dedicated to his therapy. He's still young so he wants to get as much use of his arm as he can. He works hard while he is here and that is why he is seeing success," Sharon said.
"We had many patients do virtual physical therapy and occupational therapy during COVID and most of them were ready to come back. We have many precautions in place – everyone wears masks and we make sure to have plenty of space between clients while we are working with them. We are careful to clean touched surfaces between each patient. We also space out our appointments so there aren't as many people here at a time," Sharon said.
Beebe offers Physical Rehabilitation Services at locations throughout Sussex County. The dedicated team of physical therapists, occupational therapists, and speech/language pathologists serve the community and help patients get back to enjoying their lives.
"It's hard knowing that I can't go back to doing what I did my whole life, but the team at Beebe has helped me understand that there are still things I can do. And, they motivate me to continue to make progress," he said. "I feel positive and successful. I wouldn't be doing as well as I am without my fiancé, Lisa, or without the team at Beebe being there for me every step of the way."
Learn more about Beebe services, including Physical Rehab, at www.beebehealthcare.org. 
 
---