Bob Chaisson: I Trust Beebe With My Heart
When Bob and Ellen Chaisson decided to retire to Lewes 17 years ago, they had never visited the region before. They wanted a nice place to live, but one that was still close enough to travel to Maryland where they had lived for 20 years.
"A few years after moving to Plantations East near Lewes, we were still traveling back to Maryland and to Johns Hopkins for our physicians," Bob said. "One of my doctors recommended I start seeing a local cardiologist to monitor my heart condition."
Bob had a silent heart attack in 1994 and has been closely monitored ever since. He was referred to Kenneth Sunnergren, MD, PhD, a cardiologist affiliated with Beebe Healthcare. "I had always gone back to Johns Hopkins and had connections there, but I wanted to have someone locally in case something happened," he said.
Bob meets with Dr. Sunnergren twice a year. About two years ago, Bob fell ill with pneumonia. He noticed a heavy feeling in his chest and was admitted to Beebe Healthcare for a couple days.
Earlier this year, he felt a similar heavy feeling in his chest while he was walking the couple's dog. "We thought it might be pneumonia again, so we called Dr. Sunnergren and made an appointment," said Ellen.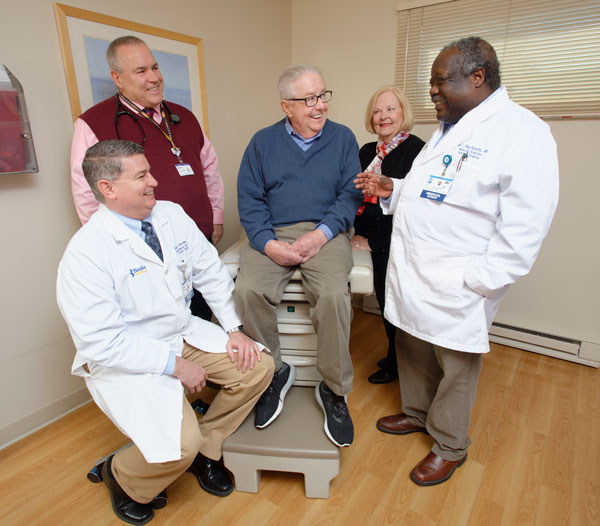 Dr. Sunnergren performed a cardiogram and saw subtle changes in Bob's heart. However, to know for sure, he recommended a cardiac catheterization. Bob and Ellen agreed to the procedure and made the appointment for October 20.
The day before the scheduled procedure, Bob again had a heavy feeling in his chest. He felt ill and was having trouble breathing. He took prescribed nitroglycerin and it didn't help. After that didn't work, Ellen called 911.
"We thought for sure he was having a heart attack, but when we got to the hospital, they told us it was just an event," Ellen said. "We stayed overnight and Dr. Sunnergren met us the next morning to do the cath."
After looking at Bob's heart using the catheterization technology, Dr. Sunnergren knew Bob needed a bypass.
"I knew he would need surgery, but I also knew that he had connections with Johns Hopkins and may want to be transferred," Dr. Sunnergren said. So, he and Amy Bradshaw, RT(R)(CV), a registered cardiovascular-interventional radiographer, put Bob on a balloon pump that would last 3 to 5 days until he would need surgery.
"Bob and I talked and we called our kids. We had a family meeting and most everyone thought we should move him to Johns Hopkins where he had been treated before," Ellen recalled.
Then Dr. Sunnergren introduced the Chaisson family to M. Ray Kuretu, MD, Board Certified Thoracic Surgeon and Medical Director of Cardiac Surgery.
"Dr. Kuretu was so impressive. He was soft-spoken, but so kind and I could tell he was incredibly knowledgeable and respected among the staff," Bob said.
The Chaissons decided to stay at Beebe Healthcare where Bob would have a quadruple bypass surgery.
"As soon as we made the decision to stay, the gears locked into motion; it was really incredible to see how the team worked seamlessly together," Bob said. "We found out later that if we had done the air transport to Johns Hopkins, the surgeon I would have had there was actually trained by Dr. Kuretu!"
Dr. Kuretu served as both an attending surgeon and assistant professor of Cardiothoracic Surgery at Hahnemann University Hospital in Philadelphia for over 28 years. He has performed more than 8,000 surgeries in his career, and as Director of Cardiothoracic Fellowships trained more than 400 surgeons.
"We were very impressed with Dr. Kuretu – such a quiet and unassuming man," Ellen said. "It was never pushed on us to stay at Beebe. It was a decision we were able to make with all the information we had. And, it was definitely the right decision."
"Everyone at Beebe was amazing – from the food service workers who would bring my meals – to the nurses in ICU, the Physician Assistants with Cardiac Surgery, the surgery team, the home care team, and of course, Dr. Kuretu, who we now consider a personal friend," said Bob, who recently met up with some of the team who performed his surgery and took care of him at Beebe. "I was in the hospital for six days and during that time, I met the most impressive group of people. Every single person was specialized in their field and everyone was at the top of their game."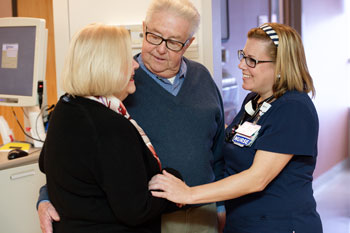 It was in the Intensive Care Unit (ICU), where Bob spent five days following surgery, that he met Taryn Zimmerman, Critical Care Registered Nurse (CCRN), and several other nurse team members.
"It takes teamwork within the team at Beebe and within the family to have a successful recovery," said Taryn, who is also a member of Beebe's rapid response team. "I find that the cardiac patients are some of the most appreciative. They have a hard recovery after surgery and it takes a lot of work. It is great to see that Bob is doing so well."
Bob and Ellen said they would easily make the same decision to stay at Beebe again. "We tell our friends and neighbors how well we were treated, and while we hope never to have such a need again, we would definitely decide to use Beebe again," Bob said.
"It will be a special holiday for our family this year knowing that Bob is healthy," Ellen said. "It will also be a special February for us when we celebrate our 57th anniversary. I think we will just enjoy each other and be thankful."
For more information about Cardiac & Vascular Services at Beebe Healthcare, call the Cardiac Nurse Navigator at (844) 316-3334, email [email protected], or go to https://www.beebehealthcare.org/cardiac-vascular-services.

---