Brian Christman: Beebe Helps Connect Me With Healthy Food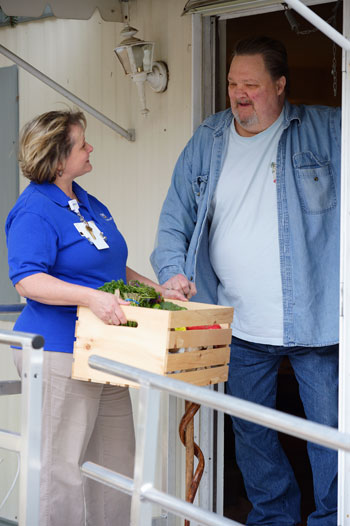 Tires crunch on pea-gravel as Catherine Murphy, RN, MSN, Community Health Coordinator with Beebe's Population Health team swings her car into a parking spot next to a home in Whispering Pines near Lewes.
Sunlight filtering through the trees reflects on the bags of food Catherine carries up the ramp to Brian Christman, 58, who waits at the door.
"This guy's my buddy," Catherine says fondly of Brian, a diabetic who was hospitalized last year after his blood sugar became out of control.
"I was really sick. It wasn't good," Brian recalls of his stay at Beebe's Medical Center in Lewes. "They had to amputate my toe. But, I'm slowly getting back to health, much thanks to Catherine and Beebe for helping me get healthy."
Brian is referring to Beebe's Prescription Food Program, which helps connect those who are considered "food insecure" and who are at risk for future hospitalizations. Brian, who continues to struggle with neuropathy in his feet making him unable to drive, receives monthly deliveries of canned and fresh food to his home.
"It has truly been a blessing for us," said Kim, Brian's sister who lives nearby. "When I was struggling with my own health issues, it was a comfort knowing that Brian was being taken care of – especially in the winter months."
Catherine and her team work with the Food Bank of Delaware, which provides specific boxes of food based on the patient's unique health needs. "Since Brian is a diabetic, we watch what types of fruit we send to him because we want him to eat healthy, but we don't want him to eat foods that might cause his blood sugar to spike," Catherine said.
"When I get the box of food, I go through it and plan what I will make. I love to cook and I always use everything in the box," Brian said. "I make a lot of soups and stews."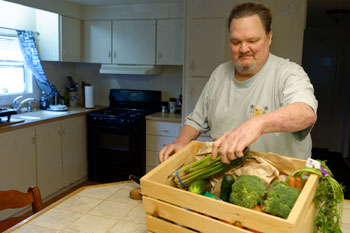 Brian, who receives about $16 each month from the state food program, says the Beebe program has helped connect him with healthier foods.
"In my situation and on the budget I have, it can be hard to eat healthy," Brian said. "This allows me to get good food and work to become healthier and stronger. I get better every day and seeing Catherine's smiling face at the door lets me know that I will continue to make improvements. I really can't thank her enough – she takes care of me."
---