Faith, Hope, Love Quilters Donate Quilts to Tunnell Cancer Center
Quilting With Warmth & Love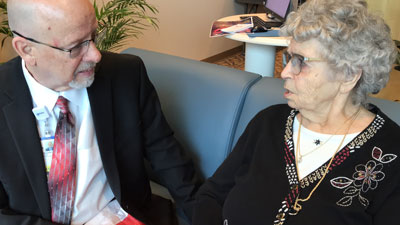 As they have been doing for more than 20 years, the Faith, Hope, Love Quilters of Fenwick Island, stopped by Tunnell Cancer Center recently to donate handmade quilts to patients.
When Shirley Loveland founded Faith, Hope, Love Quilters in 1997, she wanted to share her love of quilting while giving back to the community. At first, the group was focused on babies and children. However, her group of 50 quilters was soon producing more quilts than were needed by children's groups. So, Shirley turned her attention to cancer patients.
"I had many loved ones who had cancer and I realized that they can get cold while having infusions, so I talked to Tunnell Cancer Center and started donating our quilts here," said Shirley during a recent visit to Tunnell near Rehoboth Beach. Her husband also had cancer and passed away several years ago.
"The quilts have been so well received. I just enjoy seeing people receive them. When I give a quilt, I cover the person up in it and their eyes light up. They can take it home and bring it with them for infusions," Shirley said. "Most of our materials are donated by the community."
Over the years, Shirley estimates the group has donated about 16,000 quilts. "It makes me happy to give back to the community and provide warmth and love to people," Shirley said.
During the recent visit, Shirley met with Executive Director of Oncology Services Barry Hamp. "I just think what these women and this group are doing is incredible," Barry said. "I fully support it and hope to visit with Shirley each time she stops by with her quilts."
As Beebe Healthcare plans for the future, a second cancer center is planned for a new South Coastal Health Campus near Millville. Find out more about the expansion plans: www.nextgenerationofcare.org.
"Once we get the new campus up and running, it will be much closer for your group to drop off quilts," said Hamp to Shirley.
"Oh yes, I'm glad you are building it so it is more convenient for us," joked Shirley.
Watch the video about the quilt donation online: www.beebehealthcare.org/stories/quilting-group-brings-warmth-tunnell-cancer-center-patient.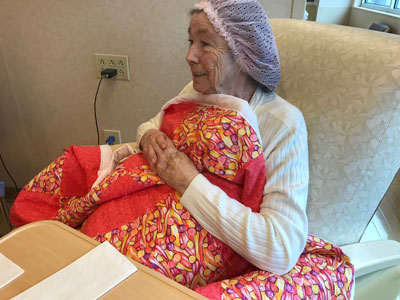 Faith, Hope, Love: Quilting for the Good
When Shirley Loveland looks back on the more than 20 years that Faith, Hope, Love Quilters have been making quilts for cancer patients, she has a lot of memories. She remembers seeing her husband and the other chemo patients enduring a treatment that would make them feel worse before they got better. She wanted to do something that made them feel comforted and loved, something that would buoy their faith and give them hope so she started a quilting group in her church's community hall.
Most of the people who work on the hand-tied quilts have first-hand experience with Tunnell Cancer Center through a loved one who was treated. During a recent visit to Tunnell, Beebe Medical Foundation met with several members of Faith, Hope, Love Quilters to recognize the group for the thousands of quilts given to the patients at Tunnell.
The quilters shared their stories of loved ones treated at the center. Some, like Shirley, have lost that loved one and feel a special connection to each quilt. One woman described how she prays as she works for the quilt to be given to the "right" person and for that special someone to feel the comfort of healing. The stories of hope, faith and love are woven like thread through each quilt.
Shirley describes the reward of personally giving the quilts to patients. The tears and thanks from patients are just the icing on the cake, Shirley says.
The real reward is fighting back at the disease that affected their loved ones. It has been a great 20 years and although Shirley will continue to be with the community group, her eyesight is failing so she can't do the close work required to create each quilt.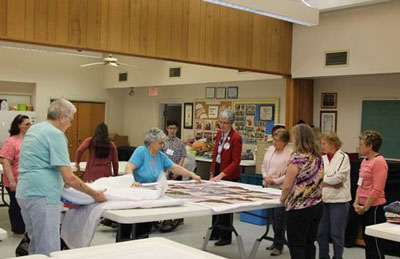 Generations of Quilts and Quilters
Jean Higgins will be leading the group and overseeing the quilting process. Jean has been making quilts with the group since she moved to the area last summer and has been quilting on her own for longer. Faith, Hope, Love Quilters plans to continue for another 20 years.
During the summer vacation and school holidays, young girls and boys join their grandmothers setting up the tables, ironing the fabric, measuring the backing, and hand-tying the quilts.
"It's quite a family tradition," said Diane Barlow of Beebe Medical Foundation who spent a morning with the group. "Some of the women arrive carrying heavy bags of the quilting squares they have cut at home or of quilts they have knotted at home. Three or four women carry in their sewing machines and get to work stitching the squares together or binding the quilts. Others set out the backing and batting and prepare tables at waist height for the tying process."
No quilting or sewing skills are needed to cut the fabric blocks or tie the quilts.
"The camaraderie of the group is evident, however chatting is minimal as the work requires concentration," Diane said. "At lunchtime, the quiet beehive of activity changes to a time of prayer and friendship as all quilters stop to share a potluck meal."
Faith, Hope, Love Quilters rely on donations to complete their mission. For more information or to donate fabric, quilt supply, or make a monetary donation, contact Shirley Loveland at [email protected]. Fabric donations should be 100 percent cotton.
Find out more about Tunnell Cancer Center and Oncology Services at Beebe: www.beebehealthcare.org/tunnell-cancer-center.
To find out more about how Beebe is creating the next generation of care, go to: www.nextgenerationofcare.org.
Captions:
Top: The Faith, Hope, Love Quilters present quilts to Tunnell Cancer Center. The quilts will be given to patients going through infusions. Shown standing (left to right) are Jeanie Motter, Janet Fawver, and Jean Higgins, all of Faith, Hope, Love Quilters. Seated are Barry Hamp, Executive Director of Oncology Services at Beebe Healthcare and Faith, Hope, Love Quilters founder Shirley Loveland.
Middle: Tunnell Cancer Center patient Shirley Francks is happy to receive the quilt during her infusion.
Bottom: Shirley Loveland, center, works with her quilters in Fenwick Island.
---