'Special K' saved the day!
Image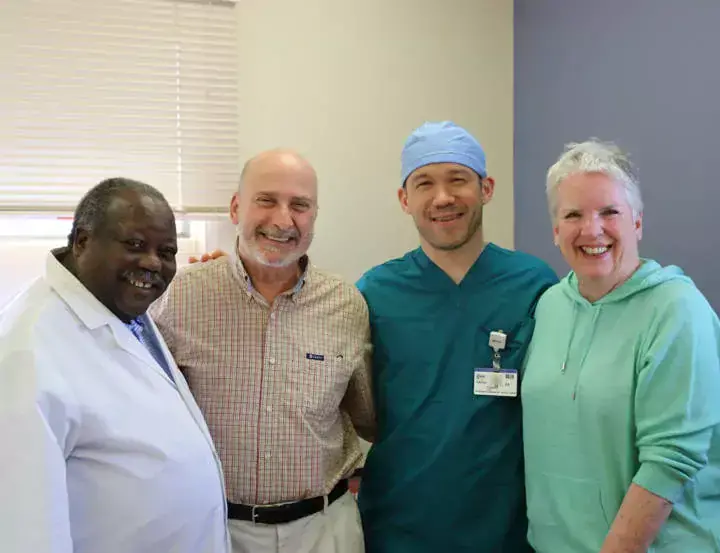 During the evening of Jan. 17, my husband Steve was experiencing some severe indigestion and discomfort. I gave him two aspirin and he went to sleep. When he woke up 15 minutes later and was dizzy and disoriented, I called 911.
When the EMTs arrived at the house, Steve was alert (thanks to some chewed aspirin the dispatcher had advised) and not inclined to go to the hospital since he had no pain. A bedside EKG showed some abnormalities, so off we went to Beebe's emergency room. Thank God! Steve was in the middle of a heart attack.
Little did we know that a quintuple bypass was in his future.
Having moved to Lewes from northwest New Jersey, where we had access to renowned healthcare, we were concerned whether a small, hometown hospital could match our expectations for care. We needn't have worried.
The care given to Steve by Beebe Healthcare staff left us humbled, grateful and determined to let our corner of the world know what a spectacular facility we have right here on Savannah Road.
From the time he arrived at the ER, throughout his catherization, open-heart surgery and six-day stay at Beebe, Steve was taken care of like he was family.
In particular, we want to recognize the staff of the ICU, namely Sally Cooper, Dawn Pasta, Kimberly Travis, Christina Oleschea and Joanna Robertson. These nurses represent the best of the calling of nursing - and the fact that they love their jobs shows in every interaction with patients. They are a tribute to the profession, and Beebe is lucky to have them on staff.
The Beebe cardiac surgery team was nothing short of miraculous. Words cannot express our gratitude to Dr. Ray Kuretu (now known in our family as "Special K") and his team - Dr. Nnamdi Azie, Physician Assistant Eugene Isaacs and Dr. Brian McCarthy. These men saved Steve's life with their skill during a seven-hour surgery. I don't know how we can ever thank them.
We are so lucky Beebe Healthcare has a thoracic surgeon. According to the American Medical Association master file, in 2005 a mere 4,734 thoracic physicians were categorized as "active" in the United States, and this number has continued to decrease.
We certainly want to Celebrate Excellent Care, and in that vein (pardon the pun), would like to make a contribution to the cardiology department in recognition of the excellent care given to Steve by the Beebe Cardiac Surgery Team.
We know whatever we can do to help raise awareness of the quality of this hospital, and also what we can do to fundraise for Beebe's new wing is important to this community. We all will need Beebe sooner or later, and Beebe needs our help to meet the needs of our giving community.
Tom Protack, vice president of development for Beebe Medical Foundation, said, "Beebe has been at the heart of our community for 100 years, and we receive so many donations in honor of our great cardiology and vascular teams, who save change and save lives every day! Ellen and Steve could not bridle their excitement about their excellent experience. Beebe started out as a family business with two brothers, three beds and one vision, and now 100 years later, with over seven locations and as the largest employer in Sussex County with over 2,000 dedicated team members, we still treat everyone like family, and maintain the same vision to deliver excellent and quality care to our residents and visitors here in Sussex County."
As a community-owned, not-for-profit healthcare system, Beebe continues to depend on the generous support of individuals, corporations, businesses and private foundations. All gifts, large or small, to Beebe Healthcare, are tax deductible and are channeled through Beebe Medical Foundation.
To learn more about how to Celebrate Excellent Care, contact Beebe Medical Foundation at (302) 644-2900 or email [email protected].
Caption: Celebrating Excellent Care at Beebe Healthcare are (l-r) Dr. Ray Kuretu, Steve Paolucci, Physician Assistant Eugene Isaacs and Ellen Paolucci.
---