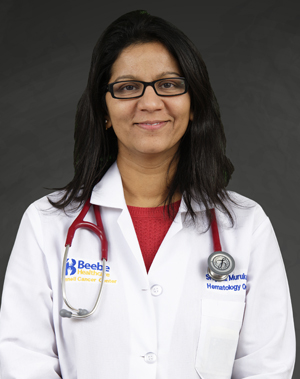 Meet Dr. Srujitha Murukutla of Beebe Oncology Services, one of the board certified medical oncologists and hematologists on the team.
Q: What do you say to patients who have just been diagnosed?
Dr. Murukutla: Telling a patient they have cancer takes a lot of care. They have questions about the next step, and we're ready to answer them. It's honest and compassionate, and we want the patients to feel comfortable and trust the treatment team. We're going to take care of them. It's an important relationship. Patients and families often face anxiety and many concerns following cancer diagnosis. Here at Tunnell, psychologists, social workers, and other staff work with patients, families, and other members of the care team to provide integrated care and support for each patient's unique needs. The team works closely with the Cancer Support Community and other support groups as well.
Q: Why is it important for patients to build a team during treatment?
Dr. Murukutla: It's not just the patient going through this life event. It's also the family and friends who are around them. Patients need that emotional support. Here at Beebe, we provide that during our interaction with patients, but when they are home and going through side effects – that support system is very important. We see that people who have that social support will often do better.
Q: How does the oncology team provide the best treatment plans for patients?
Dr. Murukutla: It is truly a team effort when it comes to taking care of our patients. Cancer care is complex, and many people are involved including medical oncologists, surgical oncologists, radiation oncologists, other medical specialists, social workers, psychologists, dietitians, nurses, nurse practitioners, and physician assistants – all of whom have expertise in treating cancer patients. We call this multidisciplinary care. The goal of multidisciplinary care is to provide the best treatment plan for the patient. Here at Tunnell we work together as a team incredibly well. We as a team meet regularly and collaborate on what treatment would best serve the patient.
---