It's A Woman Thing: A Little Slice of Americana
It's July and just like every July, I cannot believe it's July already!  I look forward to summer so much that I'm in shock when July rolls around!  How can it be July already?  Summer just started and it already feels like the end of summer is near.  The fourth of July is a milestone that seems to make the clock tick faster and the sun set sooner!  I apologize if I sound too negative, not my intention at all, it's just that this year I am particularly amazed at how shocked I am that the Fourth of July has come and gone, which means summer is moving way too fast!
The Fourth of July is second only to Thanksgiving as one of my favorite holidays. There are no gifts to be purchased or other demands, only the demand, take it or leave it, of celebrating our country's independence! The Fourth is comparable to Christmas, in so much as people love to decorate inside and out and I love to bear witness to it.  I love to see Old Glory flying high in many forms: yard ornaments, patriotic bunting on railings, door wreaths, t-shirts, socks, almost anything that can be decorated in a flag is all around!  Walking the dog this morning I noticed all of the little flags people have lining their walkways, or ornamenting their mailboxes and flower pots. For me, I love to see the passion that people put into decorating for the fourth. It makes me feel good to see the pride that people have for our country which rekindles my American pride too. I am proud to live in the greatest country in the world!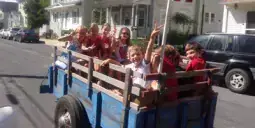 Just like some of the other holidays, I have developed some traditions around the Fourth. When my kids were babies, we started to take them to the Doo Dah parade in downtown Lewes. I still have a vision of my babies dressed up in red, white, and blue sitting on the sidewalk curb watching the parade!  I was so enamored with this event. It was so lively, organic, patriotic, and festive!  In that moment I felt so blessed and lucky to call this place my home!  Each year my kids and the neighbor's kids dressed up and participated in the parade either riding bikes, riding in the neighbor's Jeep or riding in the back of a wagon.  I loved to watch how excited they still are for the Doo Dah parade and all of the festive energy that comes with it. They love to shop for the best Fourth of July regalia, coupled with some face painting to kick it up a notch! Since my first experience with the parade, I refer to the Doo Dah parade as the best "little slice of Americana" right here in Delaware!  I have not missed a parade since that first one in 2005, and I get giddy just thinking about it! 
The parade is a tradition for many. The parade has a wonderful local history that continues to this day. It is great to see the locals you know decorating their cars, jeeps, trailers, scooters, bikes, playing their instruments or whatever just to participate in the parade. It is an event for all ages. There is an authentic joy that you feel standing on the street with people you know and people you don't! And of course, there is candy! The people in the parade throw candy by the fistful to the bystanders. It just makes the experience that much "sweeter!" I never get tired of this little slice of Americana, I am grateful that I live in a place that provides me the chance to witness the simplicity of celebrating everything that is good about life: freedom, independence, friendship, kindness, joy, music, and laughter, just to name a few. 
Of course the Fourth of July would not be complete without the fireworks!  I have gone from a kid who was deathly afraid of them and would bury myself in the sand to an adult that loves the excitement and spectacle of a good fireworks display. It is the ultimate way to celebrate! 
In those moments when we are standing on the street celebrating our country's birthday, we are all equal. The parade is patriotic but humble. There are no advertisers, no politics, just Americans celebrating together. We are reminded of the simple truths that our forefathers professed and others covet. We see it in the stars and stripes, we feel it in the patriotic music, it is evident in the colorful explosions of the fireworks; we are all connected on this one day. The comradery on the parade route is palpable.  
I know that we are not the only small town that celebrates our nation's Independence Day, you can pick up any Better Homes and Gardens or Coastal Living magazine and see how other places do it, but for me, I couldn't be happier with the Doo Dah parade and the Lewes fireworks and all of the flags that I see on display. I never get tired of Old Glory waving proudly. To me, this little slice of Americana is big in meaning and spirit. Happy Birthday U.S.A.!
---