Boomer Unchained: Book Lovers are Blessed in Coastal Delaware
Image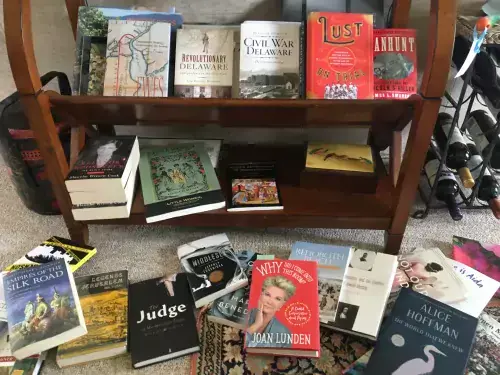 Despite a relatively small, permanent population, the Lewes-Rehoboth Beach area is blessed with a foundation of book aficionados drawing authors from around the nation to discuss their books with those who want to listen.
This became evident three years ago when more than 20 authors participated in the first History Book Festival, which took place in several venues around the City of Lewes.  Hundreds of book lovers attended, that year and also the next.
I, myself, after listening to several authors speak about their books, including Blanche Wiesen Cook, who spoke about her trilogy on Eleanor Roosevelt, spent nearly $100 in the feeding frenzy of book buying in the foyer of Lewes Public Library.  I even bought the last available copy of Lust on Trial: Censorship and the Rise of American Obscenity in the Age of Anthony Comstock.  Amy Werbel, the book's author, had given a riveting presentation. 
I was not the only book lover in attendance who succumb to the contagious author enthusiasm. Browseabout Books, the official bookseller for the annual event, sold a record number of books in a few hours, alerting publishers that the History Book Festival, and Lewes, is a place their authors must visit.
Fast Forward to the Summer of 2020
Like so many other events, the History Book Festival became a virtual one this year, with participants signing into Zoom meeting rooms. While sitting in front of your computer or iPad isn't the same as being surrounded by people swarming to get into rooms where authors are speaking, it at least keeps us connected in this isolating time. We can "meet" the author, hear his or her thoughts about the book, and then have our questions answered. 
In June, best-selling author Erik Larson discussed his new book, The Splendid and the Vile, in a virtual History Book Festival sponsored event. It was another book about Churchill, only it was about what Churchill and his family were doing during the Blitz.  Several people attending remarked that it read as if they were there with him, experiencing the fear as bombs exploded everywhere.  
History Book Festival has organized a list of free, virtual author discussions through November, which can be accessed through the website https://www.historybookfestival.org/  I look forward to participating in several of the discussions, including the one about the book, The Other Madisons by Bettye Kearse, who tells her story as a descendent of President James Madison and his slave and half-sister, Coreen. The books in the festival are definitely not like my school books were in high school.
While the authors would love for you to support them by buying their books, you can still get most, if not all, through the library. Luckily, the library is now open with curbside pickup. Remember when early in the pandemic libraries were not open?
While we hope the History Book Festival will take place in Lewes again next year, as planned, we know that this year we can still participate online. 
Lewes Public Library, Browseabout and Biblion book store in Lewes are all involved in the festival. Biblion owner Jen Mason is a co-founder with Constitutional law professor and author Ron Collins, and several people from Browseabout and Lewes Public Library are either on the festival board or have been active volunteers.
The Library and Browseabout also are partnering in presenting other virtual author discussion groups, all free and all easily accessible once you figure out Zoom. 
 A few weeks ago, I enjoyed moderating the discussion with journalist Brooke Lea Foster about her new book Summer Darlings. It's a light summer read that takes place in Martha's Vineyard.  She told us how she got her idea, and how she created her characters. I felt as if I had been in Martha's Vineyard after reading her book. 
I also heard Fiona Davis for the second time. The first was two years ago at the History Book Festival, and the second was earlier this month when she talked about her fiction novel set at the New York Public Library. 
These discussions give us a chance to learn about the books, and then decide if we want to read them. 
Early this month, illustrator and ornithologist David Sibley and author Jennifer Ackerman discussed birds, and referenced David's latest book, What It's Like to Be A Bird: From Flying to Nesting, Eating to Singing, and Jennifer's new book, The Bird Way: A New Look at How Birds Talk, Work, Play, Parent and Think.   More than 350 people listened in on the Zoom call, many of whom were able to ask questions.
We are blessed to have two, independent book stores so small that you can get to know the owners. Browseabout also sponsors a book group that meets monthly between September and May. Their reading list for the upcoming 2020-2021 is available at the store.  The first meeting will take place at 3:30 p.m. September 27, on Zoom, where those attending will discuss Jenny Offill's books, Weather, and Department Speculation.  You can read one, both, or none at all. 
Check out the upcoming author discussion groups, as well as other book adventures, by visiting both the Lewes Public Library website, and the Browseabout website.
---