Boomer Unchained: Turning to TV while still waiting for the new normal
Image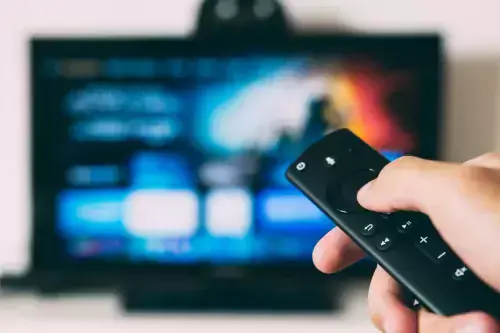 Television has taken more of the limelight than it has in the past, at least for me and many "seniors" I know. While we seem to be on the brink of 'life after Covid,' we are still there, avoiding social gatherings, trips to the movies and the museums, and our old lives in general. We are still praying for those who are sick, and who have lost their lives. We pray for our healthcare workers, and all those who have to work around others.
When my three friends and I walk "socially distanced" and masked around the neighborhood, we discuss where to get a Covid vaccine, if we will have a problem getting the second vaccine, and what we are watching on Cable TV. 
We all have subscriptions to Netflix and Amazon Prime, and some of us have subscriptions to Acorn, Hulu, Britbox, or whatever else is out there. 
Personally, my favorite shows are British -- dramas, love stories and murder mysteries. It doesn't much matter. No one does murder better than the British, whether its Endeavor following the clues, Chief Inspector Vera Stanhope leading her team, or Inspector Morse walking the lanes of Oxford. I have always enjoyed works by Agatha Christie, and have been happy to find her movies on cable.  
A few years ago, I was hooked on the English drama Downtown Abbey. The members of my Lewes book club got so engrossed in the show that we decided to have a Downtown Abbey dinner at which all of us dressed in period costume.
With the pandemic, the television studios have worked overtime, and not just in the United States and Britain, but in other countries. Our cable channels carry shows from Australian, Finland, France, Norway and Israel, to name a few. To help keep you entertained, and possibly stress free for a while, I thought I'd share a list of some shows that we are watching and discussing 
Lupin: My friend Marjorie just told me about this show, released January 8, 2021. I tried to get it through Netflix, but I got a message that said I should try back another time. With Rotten Tomatoes giving it a 93% approval rating, I assume the site has been slammed. All I know if that it's a French show about a handsome gentleman thief.  I will be trying to see what I am missing (Who could forget Cary Grant in Catch A Thief?  Or, the 1964 thriller Topkapi?).  
•    Pretend it is a City. Martin Scorsese interviews American author and humorist Fran Lebowiz. It is supposed to be hysterical.
•    Bridgerton: This new series is British, a Regency period romance story based on a collection of books of the same name by Julia Quinn. Aside from its rather racy, sexy parts, it reminds me of the children's Disney books I read as a little girl. Buildings glisten, streets are squeaky and beautiful women in flowing gowns climb out of elegant carriages as sparks fly between Daphne and the Duke. In season one, will they end up together? More seasons are in the making.
•    Queen's Gambit: This 1960s-era American story is based on the 1983 novel by Walter Tevis. It follows the difficult life of an orphan who turns out to be a chess protégé struggling to make her mark in a world unaccepting of her. Everyone I have spoken to who have seen it, loved it.
•    Last Tango in Halifax: This drama isn't new but I've recently discovered it, and I am so enjoying it. Set in the rural Yorkshire area of England, it is the story of two people in their 70s who have lost their spouses and who find each other after more than 50 years. It is not just a love story, but one that includes the complexities of family relationships and the humor that can go along with them. 
•    Rumpole of the Bailey: I am not sure how I stumbled upon this one, but I've watched every episode. Rumpole is a senior barrister (trial lawyer) in London. The show was made in the '70s, complete with the airs of that period. He is quite a character, independent, seemingly bumbling, and as lovable as a grandfather. He drinks too much and annoys both his legal associates as he does his wife. He is sort of an English version of Perry Mason, if anyone remembers Perry's courtroom dramas. Rumpole's clients are the people wrongly charged, and he always gets them off. 
•    Sherlock: This show is modern twist on the classic mysteries of Sherlock Holmes. This Sherlock, played by Benedict Cumberbatch, is a young, dashing intellectual who seems to have a six sense of what is going on around him. He is a handsome nurd with a mind that acts like a computer. He solves crimes with his sidekick Dr. Watson, played by Martin Freeman, and the endings always leave you wondering. 
•    Dead Still: This strange murder mystery is based in Victorian Dublin, Ireland. The main character is a Memorial photographer – the kind of photographer that takes pictures of newly dead people in order to memorialize them for their families. We soon learn that a serial killer also is photographing dead people who are his victims. The music is whimsical yet sinister and the settings feels authentically dark Victorian.
•    Occupied: This Norwegian series is set in Oslo and includes subtitles. Since I have lived in Norway, I thought it would give me a chance to brush up on my Norwegian. I soon discovered a riveting series. It is set a few years in the future with the premise that Norway is no longer a member of NATO and the Russians have taken it over. There is plenty of intrigue as a resistance group tries to free its country and government leaders struggle to take back control.
•     A Place to Call Home: This melodrama takes place in Australia right after World War II. It is a romance story between a widowed wealthy landowner George Blight, and a nurse Sarah Adams who returns to Australia after the War. The series reveals the wonderfully juicy intrigue within the Bligh family as matriarch Elizabeth Bligh (George's mother) tries to maintain the façade that all is right on the estate, while George falls hopelessly in love with a woman not of his class. 
•    Fauda: This Israeli action series features a special forces team. It's ripe with nail-biting suspense, strong, interpersonal relationships and developed characters, some violence, and a look into what life is like in the Middle East.  Hebrew is dubbed into English but Arabic has subtitles. 
There are just a few shows that have caught my attention. Please stay safe. 
---