Beebe shows its excellence in so many ways
Image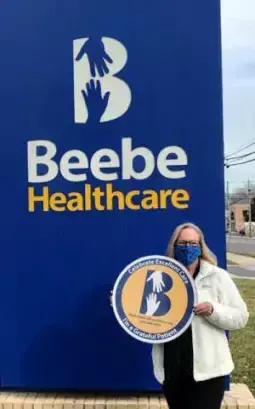 By Donna Ohle
This is a letter of thanks to all Beebe team members – each and every one of you – for all that you do every day to provide safe, excellent care for me, my family and friends, and our greater community.
I tuned in to watch Beebe's Town Hall live on Facebook Jan. 8. And, just as Beebe has done since the beginning of the pandemic, the town hall updated the community on the COVID-19 virus, and now its vaccine. By the end of the event, I felt educated, calm, and most of all, proud.
I'll admit – I'm a true Beebe Believer.
I am a committed Beebe volunteer, sharing my time and talents with Beebe Medical Foundation as often and in as many ways as I can. I participate monthly on the hospital's L.O.V.E. Notes committee, and I even weighed in on the design of new patient rooms as a member of Beebe's Patient and Family Advisory Committee.
I am a grateful Beebe patient. My first experience with Beebe's Emergency Department was in summer 2010. I had been sitting on a futon in one of the few rooms in our home that was not under renovation, in preparation for our occupancy in retirement. I leaned to the left to turn the window AC down, and the next thing I knew, my hip was out! From there, my hip and I visited Beebe's ED six more times, and I ended up having two hip revisions. Each time I received excellent care, for which I am eternally grateful.
I am a proud Beebe donor. The Holiday of Life fundraiser is one of my favorites but I also participate in the Tanger Pink Card effort, the Beebe Goes Purple initiative and, this month, the Project Kudos Powered by Schell Brothers social media campaign. I give as often as I can to multiple Beebe fundraisers because I believe that supporting our local hospital makes our entire community stronger.
After I watched Beebe's Town Hall on Jan. 8, I was so impressed that I wrote to Dr. David Tam and Dr. Bill Chasanov. I wanted to thank them for their well-informed message. Many of my questions were answered, and my anxiety was certainly lowered. I've also spoken to several friends who felt the same way. These town hall events are just another example of the excellent care that Beebe provides for our community. I'll end this letter as I began it: Thank you, Beebe!
As a community-based, not-for-profit healthcare system, Beebe Healthcare depends on the generous support of the community it serves. To make a gift to celebrate the excellent care you or a loved one have received, call 302-644-2900. Want to share your story? Contact Amanda Neal at [email protected].
---