The Clock is Ticking: Being over 60 Does NOT Mean it's Time to Slow Down
My favorite life experiences have involved camping – and I don't want to give camping up.
My parents sent me away to Yokuts Club Camp in Yosemite when I was seven years old. Though that first camping escapade for me was actually my expulsion during their divorce, my love for the outdoors was established.
I saw the Milky Way for the first time. I smelled the scent of authentic cedar and experienced the awe of watching water tumble thousands of feet in Yosemite Falls. I found my way using a compass, discovered how to pace myself hiking on steep trails, which plants were edible, and what to do in the case of rattlesnake bite. I learned toothpaste was among the scented items that could not be left in the tent at night, but rather had to be safely put away in the bear box.  I was an expert camper by the time I was 10.
I continued to camp in the Sierras growing up, first with the Girl Scouts and later with friends. I even did a weekend with students in one of my college art courses in California when our instructor believed we needed to be survivalists to pass the class. That was the '60s.
Once married to a Norwegian, I continued my favorite activity with him (now a former husband) and with our two sons. My adult sons and I have camped together as recently as two summers ago.
Which brings me to this past summer (August 2018).
I wanted to go camping and couldn't find anyone to go with me. My friends generally think camping is a double bed in a two-star motel, and have no interest in tents, or two-star motels. And, well, my sons, in their 40s, don't have time in their present lives to camp with mom.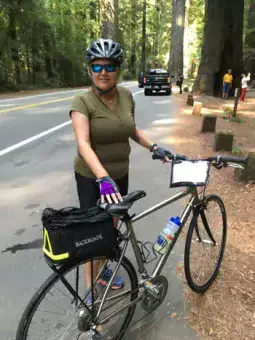 So, it appeared that at 68 years of age, my love of camping had become problematic. And, what was worse, I felt the ticking of 'the aging clock.' If I don't do it now, when am I going to do it? Will I be able to physically do it next year, or the year after that?? How long will my body work? What if I break something, like last year, or if dementia sets in?
I came to the painful realization that if I were to camp, I'd have to figure something out immediately, all by myself. The good news was that since I was planning to be in California anyway visiting my sons, I might be able to find an opportunity in California's vast outdoors.
I googled "California," "camping," "August."
 I found a five-day camping trip in the coastal redwoods (no forest fires there) – upscale: with guides to set up camp and carry your gear and with chefs to prepare all your gourmet meals. Sounded too good to be true. It was so true. I called the company and found out I would even have my own four-man dome tent because I was traveling alone – at no extra charge. The trip included two afternoons of bicycling in the redwoods, one morning kayaking in a lagoon, and three days hiking through the most beautiful redwoods imaginable. I was in.
The trip was fantastic.
There ended up to be 17 campers – a family of five from Mexico (youngest child was 19), three men in their 30s from Indiana, a mother and daughter from North Carolina, three single people from different cities, and FOUR WOMEN OVER 60 – two from Texas, one from Arlington, and I. I was the oldest. The other three women came on the trip alone because their husbands don't like to camp. The love of the outdoors, and I hate to admit our age, bonded us. While all of us (the campers and the guides) enjoyed meals and campfires together, we four hiked the six-mile trails and the 12-mile bicycle trips together. We did not participate in the extended hikes and bike rides. Instead, we visited the water holes and the Northern California beach (That beach required a separate hike up a very steep cliff). The great thing about that trip was that everyone could go their own speed. Ours was one of balance. We even did yoga one afternoon as the mother from Mexico was also a yoga instructor.
  We had two highlights. One was experiencing a true spiritual place called Fern Canyon and the other was our visit to the wine-tasting place in Trinity. Fern Canyon represented the culmination of a 7-mile hike through indescribably magnificent redwoods. The canyon had ferns growing up its sides with waterfalls raining down. The wine-tasting was just plain old fun. We road our bicycles to Trinity. Several people went on to ride along the coast. We 'girls' opted to hang out in Trinity as it is a lovely little town on a precipice overlooking the Pacific Ocean. Then we found the little wine-tasting place. We didn't tell our guides, however, and they didn't realize there was a wine-tasting place. So, while we were laughing and enjoying wine with some locals, our guides were looking for us in the art galleries (where old ladies would surely be).
Thanks to the fact that we all carried our cell phones, the guides found us in time for dinner and another campfire, where we laughed, made smores, and enjoyed each other before the journey home the next day.
My lesson learned was to enjoy every moment of every day, that it's wonderful to make new friends, and not to be afraid to follow my heart.
---