Kayaking in a special place
Now that I've decided to be as active as I can, until I can't, I jumped at the chance to kayak for a weekend around Smith Island.
I spotted the calendar item on Facebook that Delaware Nature Society posted months ago for the first week in October (earlier this month). It was part of the society's Eco Tour programming, like the upcoming trip in November to watch birds in the Andes, and a February 2019 cross-country skiing trip in the Adirondacks.  Delawarenaturesocity.org
The Smith island trip appealed to me for several reason. First, I love to kayak. There's something special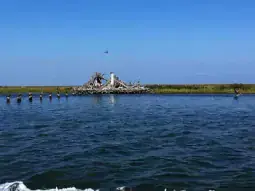 about gliding through shallow waters with only the sounds of nature around you, and being able to go into narrow rivers, and 'guts,' as they call the tiny channels in the marshes.  You get right up to birds and waterfowl before they react. And, you can get to places you can't walk, drive, bicycle, or even take a larger boat or sailboat. Secondly, I had been on a writing retreat on Smith Island led by author Tom Horton a decade ago and I knew how fantastic it would be to kayak through the endless marshes that make up Smith Island, which is actually an archipelago. Besides, it's an easy getaway from Lewes. You just have to get to Crisfield to pick up a ferry that takes you the nine miles to the island in the Chesapeake.
There are no cars on Smith Island. Some residents have little golf carts, but that's pretty much it. When you get there, you feel you are away from modern life.  There is no cell or internet service either.
Our group was quite small – a total of six. Our leader was Matt Babbitt, who heads up the Abbots Mill Nature Center in the Milford area. He had lived on Smith Island for a couple of years as a member of the education team with the Chesapeake Bay Foundation, which has an educational facility in Tylerton, one of the three towns in Smith Island where we stayed.  He knew the environs well, which includes three towns – Tylerton, Ewell, and Rhodes Point, on two large islands, surrounded by other smaller islands. Otherwise, there was one retired duPont finance guy, another senior corporate guy, a retired woman accountant, Peter and I.  I have described the participants in such as way to protect their privacy while at the same time to give you the sense that, except for Matt, we all were well into our late 50s, early and late 60s and 70s. In other words, adventures are still made in those ages that used to be referred as the 'golden years.' Clearly, we don't use that term anymore!
Smith Island was settled in the 1600s by people from Cornwall, Wales and Dorset seeking religious freedom.  Their accents linger on as a tribute to their tenacity and will to survive. The population grew over the centuries but has significantly decreased in recent years to fewer than 200, due to the decline in the crabbing and oyster industries, to the constant hurricanes and to the rising of the ocean. Smith Island is sinking. I saw the difference from my visit a decade ago. Many streets fill with water now, even at low tide. Many houses have been abandoned and docks have been left to disintegrate.
Still, the island's environs are the center of the nation's soft-shell crab industry. The people are watermen, hardworking, strongly religious, family minded, close knit, yet welcoming to visitors.  There are so many books written about the island and its people. It's a place holding onto its traditions in this fast-moving world of ours.
Our kayaking trip was a success. We kayaked several miles on Saturday, and at least six more on Sunday.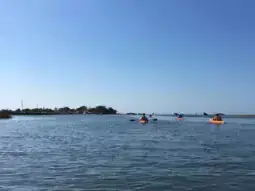 We all felt the magic, spellbound at the birds around us, at the periwinkles climbing the reeds at high tide, the clouds moving across the sky, the sound of water everywhere. We enjoyed talking to people we met. We enjoyed the crab cakes at the Bayside Inn in Ewell. We even had some of that famous layer cake.
Smith Island might be a place you'd never think about, but if you love the outdoors, you may enjoy a visit. Thank you, Delaware Nature Society, for organizing this trip, and for your many other events and activities.
---