Navigating Our Health: 5 Things to know about Opioid Addiction
This September, Sussex County is "Going Purple" to raise awareness around addiction and substance abuse in the area. 
Image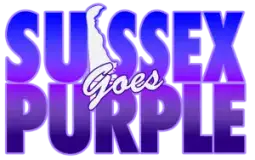 The project is based on the Purple Project, which is an initiative of the Herren Project. It was established by Chris Herren, a former NBA player with the Celtics. Chris Herren himself has battled addiction and knows first-hand the impact it has on individuals and their families. By "Going Purple," local businesses, community organizations, churches, and individuals can help bring awareness to this epidemic. Some ideas include purple ribbons, purple carwash soap, purple street lights, purple uniforms, purple flowers, etc.  We invite all members of the community to join in on this awareness campaign.  You can learn more about Sussex Goes Purple at https://www.delawaregoespurple.org/#event=12736155.
Since awareness is the purpose behind this initiative, I thought it would be fitting to post information related to addiction. The more we know, the more we can do to decrease the stigma and help individuals and their families seek help. 
Here are 5 Things You Should Know about Opioid Addiction:
Not All Opioids are Illegal:  Opioids are a class of drugs that include not only heroin, but legal prescriptions of pain relievers such as oxycodone, hydrocodone, codeine, morphine, fentanyl, and others.  For many, their addiction started with taking pills prescribed to them or someone they know before progressing to injecting or snorting drugs. 
Opioid Use Affects the Brain:  These drugs interact with the receptors in the brain and nervous system to produce pleasurable effects and relieve pain. Continued use of these substances can cause chronic effects on the brain and disrupt the normal function. It is these changes in the brain that lead to opioid dependence and addiction. There is a difference between physical dependence and addition. By definition, opioid dependence is the need to keep taking a drug to avoid withdrawal symptoms. Opioid addiction is defined as the intense drug craving and compulsive use. The symptoms of dependence seem to resolve after detoxification of the substance, while addiction is more complex and long lasting even after the substance has been removed from the body. This has to do with the long-term effects opioid use has on the brain and the Mesolimbic reward system (midbrain). When treating Opioid Use Disorder, both of these problems must be addressed for successful treatment to occur. This is why many people will relapse after abstaining from the substance for a period of time.
Mental health disorders and Substance Abuse disorders often go hand-in-hand: According to SAMHSA (Substance Abuse and Mental Health Services Administration), approximately 7.9 million adults in the U.S. have co-occuring disorders in 2014. Addiction is extremely complex and is often co-occuring with other mental health problems such as depression, anxiety, ADHD, PTSD, trauma, etc. People with mental health disorders are more likely to suffer with an alcohol or substance abuse problem than someone without. In order for effective substance abuse treatment, it is important for the individual to receive appropriate treatment for both problems.  People are best treated with integrated treatment that includes treatment for both addiction and mental health.
Sobriety is a marathon, not a sprint:  It is difficult for many people to understand why people struggling with addiction, can't just stop. It can be frustrating for families to watch as loved ones throw everything away, over and over again. Families and loved ones get sick of giving multiple second chances. Due to the complexity of addiction and the long-term effects on the brain, relapse can be a common occurrence in treatment. To decrease relapse, many addiction treatment centers use Medication Assisted Treatment (MAT) such as Methadone, Buprenorphine, and Vivatrol to prevent withdrawal symptoms and ease cravings. The recommended treatment consists of an initial detox, followed by some type of maintenance medication therapy, counseling, and treatment of co-occuring disorders. This treatment can be controversial within the community setting and many see this as trading in one drug for another drug. The goal of MAT is to decrease cravings and reduce the risk of relapse while working on developing new coping strategies. Once these new coping mechanisms are in place and co-occuring mental health disorders are addressed, the medication dose should be decreased and eventually tapered off.
If you or someone you know if suffering with addiction there is help available:
LOCAL RESOURCES
Help Is Here, DE - helpisherede.com

911 Crisis Hotline, 24/7 Sussex County – (800) 345-6785

SAMHSA's treatment referral -

samhsa.gov

– (800) 662-4357

Connections Community Support Programs, Inc., Seaford – (302) 536-1952

atTAcK addiction –

attackaddiction.org

.  
TREATMENT
Connections Community Support Programs – (866) 477-5345
SUPPORT
Alcoholics Anonymous – (877) 654-7925

Narcotics Anonymous – (800) 773-9821

Al-Anon -  al-anon.org
You can learn more about Sussex Goes purple at www.delawaregoespurple.org.
---