Summers at the Beach: Life of the Retiree
Each year, you welcome the colorful, expansive skies and the warm temperatures of southern Delaware's summer as if they are old friends. Icy roads, sharp winter winds, and layers of clothing are long forgotten. Even the humidity doesn't slow you down. Instead, the early morning sunrises pouring light into your bedroom remind you how beautiful these days can be. You feel energized and ready for the activities of summer.
You love living in such a beautiful area near the vibrant Atlantic Ocean, tranquil bays, canals, and channels that connect quaint towns and nature areas. You love walking at Cape Henlopen State Park, James Farm and Lums Pond.
What to schedule first?
Arrange for the grandchildren's visit? Your daughter and son-in-law are arriving with the kids for 10 days this month. They want to go to the Rehoboth – the boardwalk, the beach, Funland, and Jungle Jim's.  Do you have enough towels? Are you planning a trip to BJ's to stock up? How's that old freezer doing?
You get your calendar out.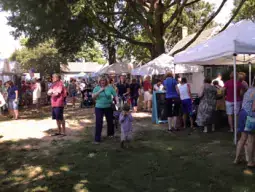 First, you put the kids' visit in, then you start figuring out who else is coming for a summer visit. The cousins from Ohio? What about your old friend from college? You haven't spoken to her in ages, not since she got divorced. You noticed an email from her yesterday. She's going to be in Philly and thought she'd pop by your place in mid-August for a few days as long as she was nearby. She's coming with a man you've never met. Great weather to travel and she loves the beach, by the way.
What about your usual morning walks on the Boardwalk? You can't miss those. Look at the calendar again. Make sure you schedule time for walking and time for the gym. You can't let your exercise regimen lapse. Keep that weight off and blood pressure down.
There is so much going on. Art fairs in Lewes, Rehoboth, and Bethany.  Sunset water taxi rides and lighthouse tours in the Delaware Bay. Antiquing in Millsboro.  A trip for the day to Cape May. A Fund for Women event. A Chicks for Charity event. A Beebe event.  Are AAUW meetings still going on?  What about the Nats' tickets?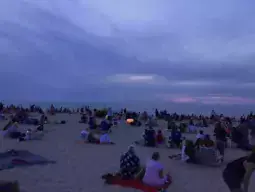 You did the July 4th thing in Lewes. That was an experience. You wonder if they'll hire a metropolitan-area traffic consultant for next year.
Barbecues. You got a new barbecue last year and have a list of people you want to invite over. Which couples go with whom? Do the Smiths and Jones like each other?
Crabs – You have to eat crabs in the summer, covering a table with newspaper and wearing your old T-shirt so you can crack them with a mallet and find the tastiest of morsels. Gotta go to Surfing Crab on the highway. Get that on the calendar.  Who will join you?
Shopping – Every houseguest that arrives is going to want to do the outlets. Look at your calendar again. Make a note of who might want to go, the kids? The college friends? The cousin? The old neighbors from Wilmington? Honestly, how many times this summer do you want to maneuver Route 1 and hunt for a parking spot? Send them alone.
Meanwhile, your husband is in a golf league. You'll have to arrange any couples' social engagements around his games. And the dinner dates he'll end up organizing for both of you. Will he remember to tell you?
Your neighbor calls as you are pondering your calendar. A dinner invitation. Lovely. A group will be there.  Your friend with the pontoon boat has invited you. You gasp in delight.  
The summer concerts. You read over the list of names of musicians, many of whom you don't know.  Some of them have to be noted in the calendar.
Wasn't there somewhere you and your husband were planning on going together this summer? A few days to Williamsburg or New York City? Where does that fit into the calendar?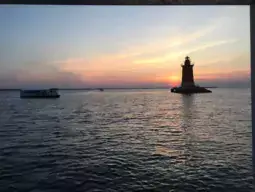 Don't forget the doctor visits. So many annual ones – the dermatologist looking for skin cancer; the annual required by Medicare. The teeth cleaning. The cardiologist wants to make sure your numbers are good.  Have you ordered your medication? Don't forget, it takes two weeks to arrive via mail order. Get that on the calendar, too.
Did you miss the dolphin count? And don't you have to get to Paradise Grille at least once this year? What about your book group? What are you supposed to be reading again?
It all happens so quickly and the next thing you know, it's August! Wait, it's August?! 
So, how are those lazy days of summer going? When was the last time you sat in your favorite chair and simply read your book?
 Don't forget to carve out a late afternoon or two or three and enjoy a sunset. They are the best ever in southern Delaware!
---