Margaret H. Rollins Lewes Campus
The Margaret H. Rollins Lewes Campus is our main medical center location located in the heart of downtown Lewes.
The Lewes Campus is named for Margaret "Peggy" Rollins, who is a generous benefactor to Beebe Healthcare through Beebe Medical Foundation. Peggy and her late husband, Randall, are longtime friends and supporters of Beebe. Learn more about the Rollins family.
---
Beebe's Lewes Emergency Department
Beebe's Emergency Department in Lewes provides care and treatment for assessment, resuscitation, and stabilizing care for patients, as well as ICU level care, prolonged observation or surgery, if needed.
The emergency department is open 24 hours a day, everyday.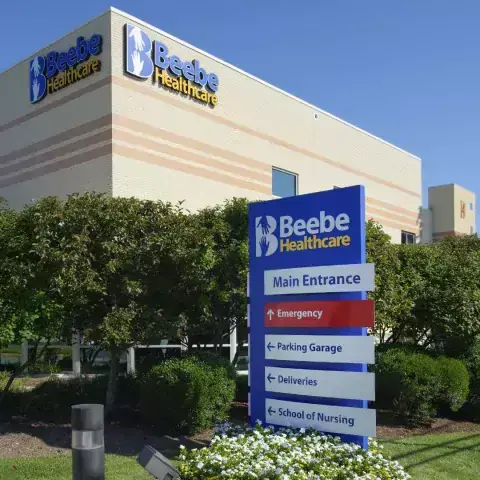 Location / Parking
The Lewes Emergency Department is located at 424 Savannah Road, Lewes, DE 19958. All visitors can enter though either the West Main Entrance by the parking garage or through the East Entrance by the Emergency Department. 
There is a parking garage on-site offering free parking. Free valet service is also available at the West Entrance Monday through Friday, 6:30 a.m. to 5:30 p.m. Learn more about the valet service safety protocols in place due to COVID-19.
Contact Information
The direct line to the Emergency Department team is 302-645-3300. If you are experiencing a medical emergency, always dial 911.
Visitor Guidelines
When visiting the Emergency Department you may have one well guest at a time. Visit our Visitor Information page for more information regarding guidelines and required documentation.
Dining
On the main floor there are two options for meals during your visits, depending when you are here.
Captain's Crew Café: Monday through Friday, 6 a.m. to 3:30 p.m.; Saturdays, Sundays and holidays 6 a.m. to 3 p.m.
Located down from the 3-bank elevators. Here, visitors will find a wide range of ready-to-go items in the grab-and-go case from snacks to sandwiches, salads or desserts, as well as made-to-order items from cheeseburgers to sandwiches. Soups are available daily. At popular meal times, you can grab a home cooked meal.
Sunshine Café : Monday – Friday 4 p.m. – 10 p.m.
The Sunshine Café, next to the gift shop, is open mostly during the evening hours for visitors to our Emergency Department and team members working later.
Guest Trays are also available. They may be ordered from a patient's room, and hosts can assist with ordering.
$5 for Breakfast
$7 for Lunch or Dinner
We honor special diets.
Payment is expected at the time of delivery.
Call Ext. 5153 to order before the next meal.
Due to COVID-19, dining areas will be operating on a limited schedule and seating is preferred to be for employees. Note: We ask that visitors who may want to purchase food, find an open seat in one of the dining areas or eat outside/in their car. No food is to be eaten in patient rooms or waiting rooms.
Gift Shop
The Beebe Auxiliary Gift Shop offers a variety of traditional and unique gifts for both patients and their families when they visit the Margaret H. Rollins Lewes Campus. A variety of special and heart-warming items are for sale on the first floor of the medical center. Unique items reflective of the location of the medical center on the coastline in southern Delaware are also available as are small sundry items, magazines, and greeting cards. All products available in the Gift Shop may be ordered by phone and can be delivered to patient rooms while they are in the hospital. The Gift Shop places emphasis on items that are environmentally friendly, made in the USA, or fair trade items.
For more information or to send a gift to a patient's room, call 302-645-3300 and ask for the Gift Shop.
The Gift Shop is staffed by volunteers from the Beebe Auxiliary, which was founded in 1936. The sole purpose of the Auxiliary is to raise philanthropic support for Beebe. Since its founding, the Auxiliary has contributed more than $1.75 million to various medical building programs and projects.
Hours are: Monday through Saturday, 11 a.m. to 2 p.m., and Sunday, 12:30-3:30 p.m.
---
Lewes Campus Inpatient Services
Our Lewes Campus includes our inpatient hospital and main emergency department. The hospital features 12 operating rooms, the state-of-the-art hybrid operating room, the Center for Robotic Surgery, and our advanced interventional cardiology labs. Our inpatient care units include critical care, stepdown, medical-surgical, and palliative care services. Our Hospital Medicine providers serve as the primary care providers for our inpatients.
Visit our Visitor Information page for up-to-date information regarding guidelines including visitor allowance, mask requirements, COVID-19 screening, required documentation and more.
---
Lewes Campus Outpatient Services
The Lewes Campus also provides outpatient services, including lab, imaging, testing, and pulmonary rehabilitation. Please see our scheduling options page for more information on how to make an appointment for these services.
---