Beebe Healthcare Welcomes Matthew Richards, MD, to Breast Surgical Team
Beebe Healthcare and Beebe Medical Group are pleased to announce breast surgeon Matthew Richards, MD, has joined the organization's medical staff. Dr. Richards is a board certified in general surgery and is accepting new patient appointments at the Beebe Center for Breast Health at the Rehoboth Health Campus off Route 24. 
Dr. Richards joins Beebe following completion of a comprehensive breast surgical oncology fellowship at ChristianaCare Health System. Working in the Helen F. Graham Cancer Center, he collaborated with radiation and medical oncologists, pathologists, genetic specialists, and plastic surgeons to provide integrated, multi-disciplinary care for patients through their journey of breast cancer treatment. In tandem, Dr. Richards devoted much time to clinical research, with particular interest in triple negative breast cancer, breast cancer screening, and care for transgender patients.
Image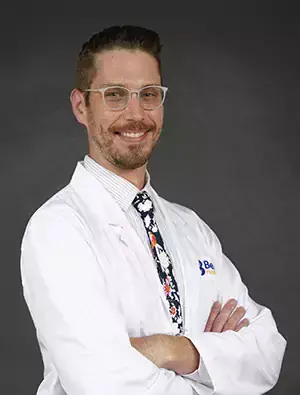 Additionally, Dr. Richards pursued a surgical residency at Drexel University College of Medicine with focus on surgical, trauma, and burn intensive care, and at Crozer Chester Medical Center, where he served as chief surgical resident for the organization's newly established surgical residency program. He earned his medical degree at Jefferson Medical College.
"I am honored to work with a dynamic team of clinicians, who collaborate every day to apply the latest, most innovative and research-based approaches to diagnosis and treat breast cancer patients," said Dr. Richards. "There is a true commitment to holistic care at Beebe, which is important for all patients, and especially for those who have been diagnosed with breast cancer.  I am incredibly proud to be part of Beebe Healthcare." 
Dr. Richards joins Beebe Healthcare during the continued growth of its Center for Breast Health. Under the leadership of Diana Dickson-Witmer, MD, who leads the Beebe Center for Breast Health, the organization is continuously evolving its breast surgical service line.
"During his residency and breast fellowship years, Dr. Richards has worked with many breast surgeons, and he brings to Beebe the best practices he has learned from each, as well as research-based knowledge and compassion," said Dr. Dickson-Witmer. "The communities Beebe serves are growing rapidly, and the addition of Dr. Richards to our Breast Health Team helps us ensure that our patients can have the state-of-the-art breast care, without leaving our community."
David A. Tam, MD, MBA, CPHE, FACHE, President and CEO, Beebe Healthcare, echoes that sentiment.
"Research shows that one in every eight women in the United States will be diagnosed with breast cancer in her lifetime and Sussex County families are not immune from this disease," said Dr. Tam. "Beebe is investing in the right experts, facilities, and technologies to assure that both men and women in need of state-of-the-art breast care have a place close to home to help on the personal journey from diagnosis through treatment and survivorship. We are proud to add Dr. Matthew Richards to our surgical team as we continue to serve our families, friends, and neighbors who are touched by breast cancer."
To schedule an appointment with Dr. Richards at the Beebe Center for Breast Health, please call 302-645-3332.
---