Beebe Medical Group Welcomes Eman Mazloum, MD, to Family Practice at Beacon
Image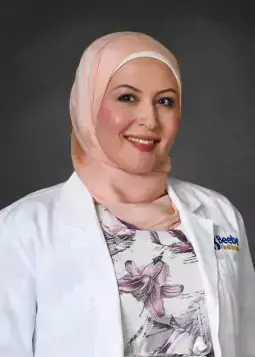 Beebe Medical Group is pleased to announce the appointment of Eman Mazloum, MD, to its Medical Staff. She is a family medicine physician who addresses a wide range of medical issues, including acute and chronic illnesses. In tandem, she focuses on preventive care and strategies to improve overall health and wellness for her patients.
Dr. Mazloum treats patients age 5 and older. Dr. Mazloum is accepting new patient appointments at Beebe Family Practice at Beacon, located on the Rehoboth Health Campus at 18947 John J Williams Highway. Appointments are available by calling 302-645-3332.
Dr. Mazloum is a native of Lebanon, where she earned a bachelor's degree in biology at the American University of Beirut, and her medical degree from the LAU School of Medicine. She relocated to the United States in 2013 to pursue residency training, where she was eventually appointed chief resident, at the McLaren Regional Medical Center in Flint, Michigan.
Years later, she moved to Delaware, where she gained valuable experience as a family medicine physician at Tidal Health Nanticoke. She and her husband, Elayyan Ahmad, MD, an endocrinologist, both joined Beebe's Medical Staff in 2022.
Dr. Mazloum is certified by the American Board of Family Medicine and the Educational Commission for Foreign Medical Graduates (ECFMG). She is an active member of American Academy of Family Physicians and the American Board of Family Medicine. Named a Delaware Today Top Doctor in 2021, Dr. Mazloum is happy to be part of Beebe Healthcare, a place where she says physicians and administrators are committed to working together to deliver the best possible care for every patient.
"My job as a family medicine physician, in many ways, defines who I am as a person," said Dr. Mazloum. "I love what I do and am happy to be part of Beebe Healthcare. It's an honor to have the opportunity to take care of the people who live in this community, who require medical care for acute and chronic illnesses, and who also need guidance on how to make health and wellness a key priority."
Dr. Mazloum and her husband are parents to one son. The family enjoys visiting local beaches as well as traveling to new and exciting destinations, for fun. Dr. Mazloum is employed by Beebe Medical Group and is a member of Beebe Healthcare's Medical Staff. She is one of more than 100 providers in the last two years who have joined Beebe Medical Group, which includes 20-plus specialty offices in more than 40 office locations throughout Sussex County. When patients see providers that are within the Beebe Medical Group, they enjoy the experience of seamless electronic medical correspondence between office visits, outpatient facilities and the hospital. Practices include the specialties of: Cardiothoracic Surgery, Dermatology, Endocrinology, Family Medicine, Gastroenterology, General and Bariatric Surgery, Hospital Medicine, Infectious Diseases and Travel Medicine, Internal Medicine, Pediatric Neurology, Pulmonary & Sleep Disorders, Surgical Oncology, Urology, and Women's Healthcare. Four Walk-in Care Centers serve the community in Rehoboth Beach, Georgetown, Millsboro, and Millville from 9 a.m. to 7 p.m. daily.
---