Revelation Craft Brewing Donates to Beebe Medical Foundation 
Image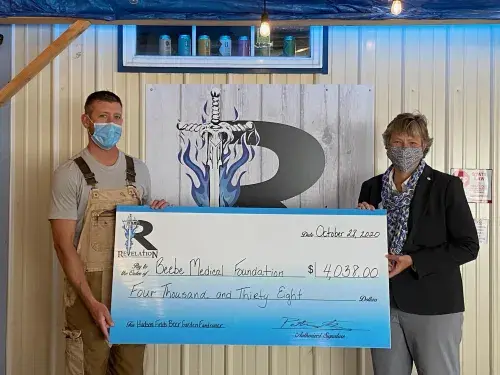 Revelation Craft Brewing Company presented Beebe Medical Foundation with a check for $4,038.00 from the second annual Hudson Fields Beer Garden in Milton.
The Revelation Sponsored Beer Garden wrapped up a successful second season in October. The Rehoboth Brewery supplied the venue June through October at Hudson Fields in Milton, where they offered at least eight brews on tap accompanied by outdoor seating, a mix of food trucks, live music and fun for the entire family. 
"We had a blast supporting Beebe on the summer beer garden. The timing was great as our community rallied together safely to enjoy each other's company over beers and eats in the perfect venue set up by the Hudson Family. I am so proud of our team for all the hard work they have put in to making this a success. We can't wait to open back up next year!" said Patrick Staggs, President of Revelation Craft Brewing Company
"We are grateful to the team at Revelation for their generous support of Beebe and helping us to bring the most advanced healthcare to Sussex County. The Beer Garden offered a safe and socially distanced outlet for this community throughout the summer and at Jawsfest! This was certainly a challenging summer but together we continue to be strong," said Kay Young, Executive Director, Beebe Medical Foundation.
Photo (l-r): Patrick Staggs, Co-Founder and President, Revelation Craft Brewing Company, and Kay Young, Executive Director of Development, Beebe Medical Foundation, pose for a photo at the West Rehoboth brewery. 
---