Beebe Healthcare joins leading hospitals around the nation as an American Institute of Minimally Invasive Surgery (AIMIS) Center of Excellence.
The American Institute of Minimally Invasive Surgery Center of Excellence Designation provides patients added assurance of best-in-class minimally invasive surgery excellence.
Beebe Healthcare has reached a milestone event by being designated as an American Institute of Minimally Invasive Surgery Gynecological Surgery Center of Excellence. Beebe Healthcare received the designation in October 2013. This accomplishment was achieved after passing a series of rigorous criteria established by AIMIS.
Beebe was the first hospital in Delaware and on the Delmarva Peninsula—and one of only 15 in the United States—to be named a Center of Excellence in Women's Health by AIMIS.
This recognition by AIMIS means that Beebe Healthcare—together with Drs. Berlin, and Eschbach—offers minimally invasive gynecologic surgery, particularly laparoscopic hysterectomy, that has produced excellent patient outcomes and meets the highest standards of quality and safety as set by the American Institute of Minimally Invasive Surgery.
For many years, the primary option for women requiring traditional hysterectomy was major invasive surgery. But no longer. Today, minimally invasive laparoscopic hysterectomy (LH) offers an alternative that is less painful, requires a shorter hospital stay, allows for faster recovery, and lowers the risk of infection. By making LH available locally to patients in Delaware and on the Delmarva Peninsula, Beebe is providing primary care physicians and their patients with an opportunity to discuss the benefits of LH and choose the option that best suits their health needs.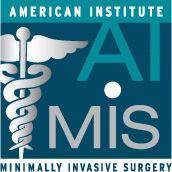 What is hysterectomy?
Hysterectomy may involve removal of the uterus, the uterus and the cervix, and, for some conditions, the fallopian tubes and ovaries. One in three women in the United States undergo hysterectomy by age 60.
The procedure is used to treat fibroids (non-cancerous uterine growths); endometriosis (when growth of uterine tissue affects other abdominal organs); uterine prolapse (uterus moves within the abdomen, causing urinary problems, pelvic pressure, and other problems); cancer; persistent vaginal bleeding; and chronic pelvic pain.
Traditionally, open hysterectomy usually requires patients to spend three to four days in the hospital and up to six weeks recovery from a painful abdominal incision. With only tiny incisions, laparoscopic hysterectomy allows patients to go home the same day, and they can resume normal activity in one to two weeks.
The laparoscopic procedure
In recent years, with the advent of ever-improving imaging technologies and precision instruments, awareness has increased regarding the benefits of LH over traditional hysterectomy.
The primary instrument used in the procedure is the laparoscope, a slender, fiber-optic wand equipped with a miniature camera, lights, and surgical instruments. The laparoscope allows surgeons to see inside the abdomen and provides technical access to the uterus, ovaries, and fallopian tubes without having to make a large incision.
The laparoscope is inserted through a small abdominal incision of one-quarter to one-half inch in length. As many as three other incisions of similar length may be made depending on the type of LH being performed. The incisions, if needed, are used for additional surgical instruments. Even a large uterus can be removed laparoscopically using this technique. By contrast, a traditional hysterectomy requires an abdominal incision of four to eight inches.
Benefits of Laparoscopic Hysterectomy
Minimally invasive laparoscopic hysterectomy produces excellent patient outcomes and offers many advantages over a traditional hysterectomy, including:
Shorter hospital stay. In most cases, LH patients are discharged the same day or require an overnight stay, versus a three-day or four-day stay for traditional hysterectomy patients.
Little to no blood loss as a result of smaller, shallower incisions.
Lower risk of abdominal infection and other complications.
Less pain. Patients generally can use a non-narcotic pain reliever if one is needed, as opposed to IV morphine or other prescription painkillers often given to patients who have a traditional hysterectomy.
Faster recovery time. LH patients typically return to normal activities within one to two weeks, compared to four to six weeks for traditional hysterectomy.
Minimal scarring. In many patients the scars become virtually unnoticeable.
One disadvantage of LH is that it takes approximately 25 minutes longer to perform, on average, than a traditional hysterectomy under general anesthesia.
Ask the Nurse Navigator
Have questions? Beebe's Nurse Navigator can help.