A Formula for a Healthy Breakfast
Image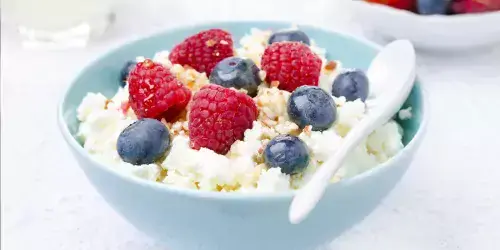 Breakfast has long been called the most important meal of the day. Recent research has reaffirmed breakfast's nutritional benefits with studies done worldwide showing that regular breakfast consumption is associated with several positive outcomes, including weight loss.
Why 'Breaking the Fast' is Important
Breakfast provides the first opportunity of the day to enhance one's overall nutrient intake. Several studies have indicated that those who eat breakfast have higher intakes of calcium, dietary fiber, iron, folate, and vitamin B-12. Consuming a nutritious meal one to two hours after waking up helps your body start attaining and reaching its daily nutrient needs.
Eating breakfast "breaks the fast" after an evening's sleep. The act of eating first thing in the morning alerts your brain and wakes up your system. Your metabolism is kick started.
Why Should I Eat Breakfast?
When you skip breakfast, the body conserves energy. This in turn lowers your metabolism which results in burning fewer calories throughout the day. Not eating breakfast in the morning can set you up for overconsumption later that same day.
Breakfast skippers are more apt to select high fat foods later in the day to satisfy hunger cravings. Breakfast skippers often make poor food choices at later meals, have increased urges to snack throughout the day, and usually consume more calories than they would if they had eaten breakfast.
Eat breakfast and benefit:
Breakfast replenishes your blood sugars, which are low when you wake up. Eating breakfast helps fuel your brain and muscles that were fasting while you slept.
Breakfast might enhance memory, attention span, speed of processing information, reasoning skills, creativity, learning, and verbal abilities. Scientists at the University of Milan in Italy reviewed 15 studies and found some evidence that these benefits might be a function of the stable glucose levels that a morning meal provides.
Breakfast kick-starts your metabolism, helping you to burn more calories throughout the day.
Eating in the morning improves your memory and concentration. It helps you focus at work, school, or while working on important tasks.
Breakfast helps lower your LDL (bad) cholesterol.
A morning meal improves your intake of fiber, vitamins, and some minerals. Breakfast eaters have a reduced risk of developing diabetes, heart disease, and have been shown to be less overweight than non-breakfast eaters.
What Should I Eat for Breakfast?
A 2011-12 survey conducted by the National Center on Health statistics found that 15 percent of Americans do not eat any breakfast and 32 percent of young adult males skip their morning meal.
Many individuals believe that a muffin and a cup of coffee is a hardy first meal, but experts advise you to choose high-fiber and protein for breakfast. Some options are:
High-fiber cereal with fresh fruit and non-fat milk or soy or rice milk substitute.
Low-fat protein shake with fresh/frozen fruit and/or vegetables.
Whole grain toast or bagel with tablespoon of peanut butter.
A protein bar and yogurt or a glass of milk.
It is important to review food labels on any processed breakfast selections to see if they are healthy choices. Protein bars and some yogurts can have a lot of added sugar. Look for brands with less than 15 grams of sugar and select protein bars with 6-10 grams of protein, and 3 or more grams of fiber.
What are some options for a healthy breakfast?
The best formula for a healthy breakfast is to include some whole grains, protein or non-fat dairy foods, and fruit or vegetables.
Sample breakfast menu ideas include:
Omelet and Fruit
Vegetable omelet: ½ cup egg substitute (1 protein),
½ cup onion, mushroom, pepper (vegetables), made with nonfat cooking spray
1 slice whole wheat toast (1 whole grain) with 1 teaspoon soft margarine
1 cup fat-free or 1% milk (1 dairy )
¾ cup strawberries (1 fruit)
Melon and Cottage Cheese
1 cup of melon cubes (1 fruit)
Wasa whole grain crackers (1 whole grain)
½ cup nonfat cottage cheese (1 dairy).
Eating breakfast is like physical activity. If you plan it in your morning schedule, you will feel great all day.
Always consult with your physician or healthcare provider before making any dietary or nutrition changes or changing your physical activity.
If you have more than 100 pounds to lose, bariatric surgery might be an option for you. Due to COVID-19, our in-person education sessions and group support meetings have been postponed. However, if you are interested in bariatric surgery and have questions, the Bariatric Wellness Coordinator can help. Fill out the form here. Call our bariatric surgery specialists at 302-703-3630. Learn more: Bariatric Surgery at Beebe.
---