Boomer Unchained: Breaking a Bone Over 60
My cousin calls me a statistic.
I am among millions of women over 60 across the country who have broken a bone.
That's not a great place to be, but one that active, baby-boomer women are at a high risk of being, according to numerous health articles I have found on the web.
I am lucky in the scheme of things. I didn't need surgery and I expect to fully recover eventually.
Many women my age and older are not so lucky. Statistics are ugly. According to a peer-reviewed article, "Fractures in Older Adults,"* adults over 65 years of age have an increased rate of trauma and an increased predisposition to injury from even minimal force.
The five-year survival rate for women over 65 who suffer a broken hip due to osteoporosis is similar to that of breast cancer survivors, the article reports.
Older patients diagnosed with a broken bone in the Emergency Department should be considered high risk for future fractures (fracture = break)
According to the National Hospital Ambulatory Medicare Care Survey, 2009-2010, nearly one-third of people 65 and older who went to a hospital emergency department did so because of 'an injury' (like falling). The older the patients, the more they suffer injuries.
I tripped over an electrical cord June 1. I had just returned from walking the dog on the beach and was dashing, barefoot, out to my porch; we were late for a dinner engagement. In mid-air, as I was wiggling to get the cord from around my left foot, I landed flat-footed on concrete, on my right foot. The piecing, knife-like pain alerted me to the fact that something broke. Saying that, I didn't even fall down, but remained upright and in agony.
We immediately put ice on it, and when the nausea had subsided and I could move, we went to Beebe's Emergency Department. An X-ray revealed I had broken a bone in my ankle – the bottom of the shin bone (tibia) to be exact. The emergency medicine nurse assessed my ability to use crutches before allowing me to leave with them. Thankfully, I passed that safety assessment! I was told not to put any weight on my leg.
Another X-ray a few days later at the office of Dr. Roman Orsini, a Lewes foot-and-ankle surgeon, confirmed a minimum of six weeks with no weight on the leg. He gave me a big black boot, covered in Velcro, to wear, as opposed to a cast. I can remove it to bathe only. As of this writing, I am still under his care, and still not walking.
Luckily, both Dr. Joydeep Haldar, the emergency medicine physician at Beebe, and Dr. Orsini, did not think my break was caused by osteoporosis. However, a few years ago a bone density test showed I have osteopenia, and I imagine I will have another test in the near future to see if anything has changed.
Breaking a bone is a wake-up call
Once home from the emergency department, I immediately googled "women," and "broken bones," and almost every reference I found talked about osteoporosis. It happens as we age, and worsens after menopause. I've been trying to ignore its probability, and my mortality, but this break was a wake-up call.
Breaking a bone with which you walk – hip, leg, ankle, or foot, wreaks havoc on your life.  Even with the help of aids such as crutches, scooters, walkers, or wheelchairs, everything you do suddenly takes forever. Chances are you'll need help bathing, dressing, washing clothes, and preparing food. Forget driving.
In your head, you start imagining how many stairs there might be to enter your favorite restaurant, your friend's house, your grandchild's school, or even the doctor's office. You will get a temporary handicap placard for the car that drives you only to discover that there is always a car in any handicapped space.
As you move slowly in the supermarket with crutches or a wheelchair, people jump in front of you to avoid standing behind you, acting as if they don't see you (Yes, people do that!).
You are at risk for blood clots. Other ailments you have made worsen because you are not exercising in a way the body needs you to exercise.
Recuperation means that muscles get weaker so that when the cast or boot finally comes off, you don't have the strength you had before it went on. That means physical therapy, and waiting even longer to be able to drive. After age 65, recuperation and the regaining of strength, range of motion, and mobility takes longer than it did when you were younger. Many older people, and people who were not in the greatest shape before they broke a bone, never completely recover, and have to adjust to less mobile life.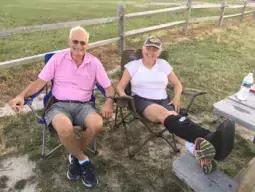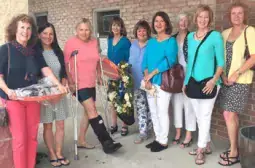 Prevention
So, as we age, the key is to avoid breaking a bone. I know that sounds like a no-brainer, but I will be thinking about that now. Basic actions you can take include:
Regular medical care is important. Get a bone density test; have your calcium and vitamin D blood levels tested. Discuss with your doctor your need for medication or supplements
Be as active as is healthy for your age, weight, and overall condition. You might consult a trainer. That means keeping your muscles as strong and flexible as they can be. That also means maintaining a weight that allows you to stay active. Yoga and Tai Chi are excellent practices to help with balance.
Nutrition is critical – the old story we keep hearing about – fresh fruits and vegetables, foods with calcium (such as green vegetables and yogurt); and the avoidance of too much alcohol and sweets. Smoking is just plain bad.
Keep your home free of things that will cause you to fall; exposed electrical cords, loose rugs, clutter on the floor. For those who need home care, Beebe Home Care will come in and do a safety assessment.
As I look forward to being me again, I urge you to think about how to prevent falls and broken bones. I have included some resources below. You can get more information from your doctor and from this women's health website.
*www.ahcmedia.com/articles/118940-fractures-in-older-adults
More reading on the topic:
https://www.ncbi.nlm.nih.gov/pmc/articles/PMC1839833/
https://www.niams.nih.gov/Health_Info/Bone/Osteoporosis/Fracture/prevent_falls.asp
---