Boomer Unchained: Positive Energy and Fitness Boutiques
At several holiday gatherings I attended in coastal Delaware, I didn't hear a single word about New Year's resolutions. I tried to bring them up as fodder for this blog, but to no avail. People were enjoying themselves, talking small talk, joking, eating, drinking, and laughing a lot. Resolutions and any serious discussions regarding the President, the pending tax bill, or other contentious subjects were noticeably avoided.
Instead, keeping old friends, cultivating new ones, and not offending anyone was clearly a key goal.
Besides sports, grandchildren, and queries about finding a doctor, two subjects that stood out to me were: What's there to do around here; and getting back to an exercise routine to counteract the holiday effect.
Something to Talk About
People who have recently retired to the area are seeking to learn more about the Sussex County communities to which they have moved. While I've lived here 16 years and have established a network, gatherings I attend still include new arrivals eager to be a part of the community, and to contribute in some way.  Many retire early, are in good health, and have the energy to get involved. Many have bought places in the area, but have not yet moved. Often, one spouse has retired and the other one is still working, so they travel back and forth.
This growing population of baby boomers is inspiring in its positive energy.
Even newcomers, seemingly lost in their new life journey, seem to brighten in conversations with those already established. Since I've been here, I've watched the birth of the new Cape Henlopen High School with its beautiful auditorium, the new Lewes Public Library, Lewes Canalfront Park emerge from a parking lot, the expanded programs at the Rehoboth Beach Film Society, Coastal Concerts, and Clear Space Theatre, new trails at Cape Henlopen State Park, a new bus terminal, a new town hall in Rehoboth, an annual history book festival, new art galleries and writers' groups, and a plethora of new restaurants, night spots, shops, fitness centers, and neighborhoods.
For those who want to make a difference in the lives of others, there are so many opportunities, including reading and advocacy programs for local children, soup kitchens, Meals on Wheels and other outreach programs for the elderly, and volunteering and fundraising for hospitals, charities, and community service organizations.  There are many people in Sussex County who can benefit from the skills and expertise that arriving baby boomers bring.
Granted, the result of this unprecedented population growth is that roads are more clogged in the tourist season, services are strained, and locals are wondering what happened to the empty beaches, farm fields, and peacefulness they knew. But, people already are trying to work together to find solutions – another place for enthusiastic baby boomers to get involved.
Image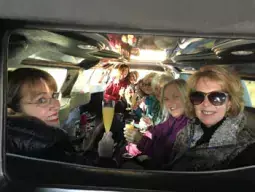 Fitness Craze & Fitness Boutiques
This burgeoning baby boomer population is also driving a fitness craze. Baby boomers, holding off the effects of age, walk, power walk, work out, cycle, spin, swim, kayak, sail, golf, and take exercise classes. We've listened to what we have been told, that healthy lifestyles can reduce the risks of heart disease, diabetes, and even some cancers. Structured exercise for many has become as much of our daily routine as eating, sleeping, and drinking coffee.
With the start of the new year, local gyms, fitness programs and boutiques around Coastal Delaware have been advertising like crazy. Offers are all over Facebook. Discounts and specials for seniors prevail.
Did you catch my term, 'fitness boutiques?' Until the other day when I read the story, "The $500-a-month Workout Habit," on the Wall Street Journal website, I'd never heard of the term. It refers to places (studios) that offer a single exercise, like yoga, pilates, Zumba, spin, or my new favorite, barre.  They are generally more expensive than a typical gym, and offer instructor-guided classes that have specific health and fitness targets. No hanging out. You work hard and then you leave.
According to the Journal, a report issued by the International Health, Racquet & Sportsclub Association revealed that about 42 percent of people who join fitness clubs say they use fitness boutiques. That was in 2015. And, it rings true in the Lewes-Rehoboth area today.
I have friends who go to Zumba at one place and yoga at another. I run into women at Sea Barre Fitness who take the barre classes there, yoga at a yoga studio, and then go to a local gym. There are all types of yoga studios locally. If you want to exercise, but have limitations due to back problems, arthritis or something else, there is chair yoga and laughter yoga. I just heard about a yoga you can do from a hammock, avoiding strain on painful backs and problem joints.
It's inspiring to see how so many baby boomers have incorporated exercise into their lives. It's also inspiring to see so many putting their vitality into helping others and supporting their communities.
---