Appreciation for Beebe's excellent care leads to art from the heart
Image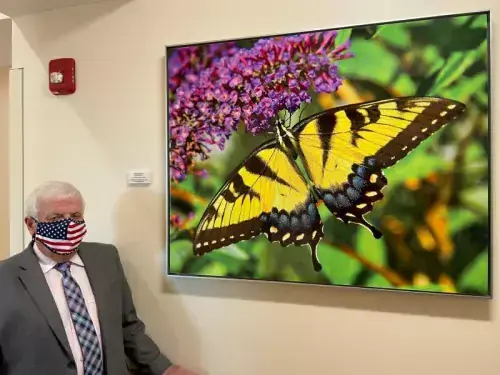 By Diane Barlow
Ken and Denise Smith moved from Furlong, Pa., to their home in Ocean View in March 2016 to enjoy their retirement years together.
A few years later, Denise started experiencing health issues and went to her primary care provider, Karen McGibbon, MD, in Millville. The underlying health issues could be related to cancer, and she was referred to Beebe's Oncology Services.
Denise was diagnosed with small cell lung cancer in March 2019 and began treatment. She went through six rounds of chemotherapy at Beebe's Tunnell Cancer Center under the care of medical oncologist Guy Tillinghast, MD.
Denise enjoyed a short remission before the cancer returned in September 2019. Ken remembers the comfort he felt while chaplain Keith Goheen stayed with them in the emergency department during the middle of the January night when Denise passed. He also recalls when anesthesiologist Dr. Yin Lim came to Denise's bedside and provided additional care so their only child Matthew and daughter-in-law Jill could drive from Pennsylvania to Lewes to be with them.
In February 2020, Ken Smith made a generous gift to the I Believe in Beebe Campaign in Denise's memory and to celebrate the excellent care she received at Beebe Healthcare. 
Ken and Denise had watched Beebe's new South Coastal Health Campus being built around the corner from their Ocean View home. This past May, the new freestanding emergency department opened, followed by the new South Coastal Cancer Center in July.
To support the new cancer center and in appreciation of Denise's outstanding care, Ken decided to contribute toward artwork to hang in the center in her memory. He sponsored a photograph of a butterfly at the entrance to the infusion suite with a plaque that reads "Yellow Swallowtail by Ron Bojarski - Sponsored by Kenneth P. Smith In Memory of Denise Michele Smith, Loving Wife and Mother."
As a community-based, not-for-profit healthcare system, Beebe Healthcare depends on the generous support of the community it serves. To make a gift to celebrate the excellent care you or a loved one has received at Beebe, visit Beebe Medical Foundation at beebemedicalfoundation.org or call 302-644-2900.
Contact the foundation if you are interested in sponsoring a piece of art at South Coastal. Artwork may be viewed at beebehealthcare.org/beebe-medical-foundation/sponsor-art-beebes-south-coastal-campus.
Caption: Ken Smith stands by the art he sponsored at Beebe's new South Coastal Cancer Center in memory of his wife. The plaque reads "Yellow Swallowtail by Ron Bojarski Sponsored by Kenneth P. Smith in Memory of Denise Michele Smith, Loving Wife and Mother." 
---