Beebe Oncology Nurse Beats Cancer
Image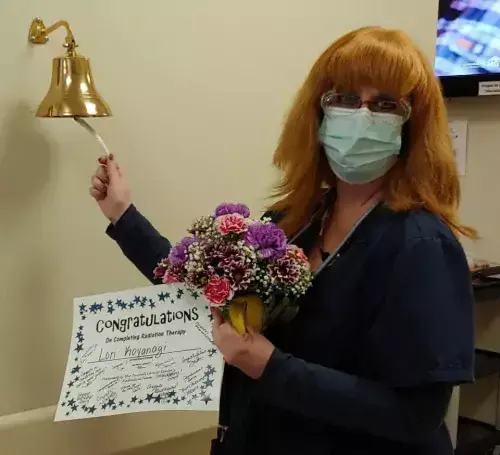 By Lori Koyanagi, RN
For 32 years, I have worked at Beebe Healthcare. I am a graduate of Beebe's School of Nursing, and I work as an oncology nurse with Beebe Oncology, which has locations at Tunnell Cancer Center in Rehoboth and at the South Coastal Health Campus. I love my job, my co-workers and my patients. In 32 years, I only took sick days to have my two children.
In August 2020, my mammogram showed growth of a lump. I had a right breast biopsy and learned that I had triple negative breast cancer. This letter is about the gratitude that I have for not only the excellent care that I received at Beebe, but also about the excellent people at Beebe who cared about me.
My primary care physician, Brittany Usilton, FNP, delivered the news to me in the best way possible. Kathy Cook, my navigator, took me through all of the steps for taking leave while on chemotherapy. Dr. Nisarg Desai very kindly agreed to take me on as his patient. Kelly Felix, PA, always did all she could to make sure my needs were taken care of with help from Alec Chase, PA; Liz Wilson, NP; and Rhonda Owens, NP.
I never thought I would have cancer. Dedicated to taking care of patients that were fighting cancer, I always knew my patients could count on me and that they needed me! When I had my own battle to wage, I found myself grateful for my co-workers, who were nothing but supportive while I was in treatment. They all wore pink for me for my first chemo treatment and also when I got hospitalized in January 2021! I am also grateful for my husband, Keith, my rock and 24/7 caregiver who shaved his head when I lost my hair. I am also grateful for my canine companion, Meeko, who never left my side, and for my 85-year-old mother who made soups and helped me with cleaning.
Encouraging phone calls from my new manager, Ella Mae Shupe, RN, all the infusion nurses who took great care of me, and the entire awesome radiation therapy staff reminded me that I work among rockstars!
I tried to stay positive and always knew in my heart that I would beat this cancer by God's grace. Dr. Jennifer Hung, Dr. Nisarg Desai and Dr. James Spellman were excellent providers on my care team, and I also want to thank them. I could not have received better care.
My co-worker and friend, Michele Paradysz, RN, also covered for me during my entire leave and when I dashed to the other end of TCC for my radiation treatments, as did Sherral Blake, CCA, and Carla Wright, CCA.
I rang the bell, celebrating the end of my cancer treatment, on April 28, 2021. I felt a sense of euphoria and answered prayers.
My cancer journey was not without hiccups. In November 2020 and again in January 2021 I ended up in the hospital with fevers, then pneumonia. I am grateful for the care I received there from Dr. Srihari Peri, Dr. Srujitha Murukutla, and the Med Surg and Stepdown staff.
At Beebe, we celebrate our fellow team members with L.O.V.E. notes. L.O.V.E stands for Living Our Values Every Day, and that is exactly what I experienced as a patient in my own hospital. So this letter is my L.O.V.E note to all who cared for me at Beebe – and I celebrate that excellent care.
As a community-based, not-for-profit healthcare system, Beebe Healthcare depends on the generous support of the community it serves. To make a gift to celebrate the excellent care you or a loved one has received, visit Beebe Medical Foundation at beebemedicalfoundation.org or call 302-644-2900. Want to share your story? Contact Amanda Neal at [email protected].
---