South Coastal Health Campus
Beebe's South Coastal Health Campus near Millville includes a freestanding emergency Department and a second location for our award-winning and fully accredited Cancer Center.
Beebe is proud to care for our community in Southern Delaware.
---
Tour the Facility
---
Beebe's South Coastal Emergency Department
Every Day Care: Beebe's South Coastal Emergency Department in Millville provides care and treatment for the most frequent emergency needs in its 23 exam rooms. Six rooms are focused on expedited care for less serious ailments to receive quicker treatment and to get you home or back on vacation faster. The emergency department is open 24 hours a day, everyday.
Emergency Care: Beebe's highly-skilled and compassionate staff provide prompt assessment, resuscitation, and stabilizing care for patients. From South Coastal, Beebe also transfers patients via ambulance or helicopter to the full hospital at our Margaret H. Rollins Lewes Campus. The campus also features advanced diagnostic imaging.
Advanced Stroke Care: Beebe partners with Jefferson Neuroscience Network, which allows our care teams to immediately consult via a secure video link with Jefferson neuroscience experts.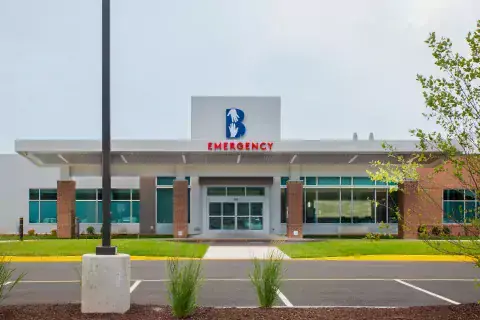 Location / Parking
The South Coastal Emergency Department is located at 32750 Roxana Rd, Millville, DE 19967. Free parking is available.
Contact Information
The direct line to the Emergency Department team is: 302-291-6900. If you are experiencing a medical emergency, always dial 911.
Visitor Guidelines
Please see our Visitor Information page for current visitation guidelines.
Dining
The newest addition to Beebe's dining options is the South Coastal Cafe, located at the South Coastal Health Campus in Millville. The Cafe offers beverages, ice cream, grab-and-go items such as sandwiches and salads, and hot items such as burgers, pizza, and soups. Hours are: Monday through Friday, 7:30 a.m. to 2 p.m.
---
Beebe's South Coastal Cancer Center
Close to Home: The South Coastal Cancer Center is located at 32750 Roxana Rd, Millville, DE 19967. The phone number to reach the South Coastal Cancer Center is 302-645-3770.
Advanced Care: The South Coastal Cancer Center offers medical oncology, radiation oncology, hematology, and a caring staff who is with you at every step of your cancer care.
Built for You: The cancer center features wide windows and an abundance of natural light. The infusion center overlooks a peaceful meditation garden and views of trees. The center has the latest in technology in a comfortable and caring atmosphere.