CELEBRATE EXCELLENT CARE In capable hands at Beebe Healthcare
By Michael O'Connor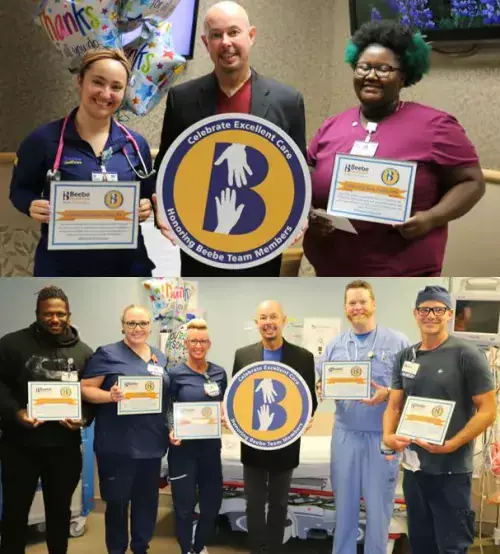 As I was being discharged from Beebe Healthcare I was visited by Tiffany Travis, the nurse manager of 2 Central at Beebe Healthcare's Margaret H. Rollins Lewes Campus. During our conversation, I shared with Tiffany these accolades for the quality, professionalism and thorough care I received from my care team at Beebe. 
I live primarily in New York City, and my doctors are all based there. I've had a home in Rehoboth Beach for almost 30 years, and over the past few years have been spending increasing amounts of time here. Of course, being in the area for that long I was aware of Beebe, but in all that time I had never conceived of the need to go to Beebe for care. Little did I know this was about to change. 
My experience started in the emergency room at 5 a.m. on Oct. 1. My admission, care and discharge on Oct. 5 have enlightened and totally transformed my perception of Beebe Healthcare. From the moment I arrived at triage to my discharge, I felt that I was in capable hands, and I knew I would be taken care of. There are several whom I would like to specifically recognize for their exemplary attention, their help and great teamwork. 
My nurses in the emergency department, Kimberly Gooden, RN, and Rebecca Hatcher, RN, really did go above and beyond. Becky and Kimmy understood I was in a great deal of pain, and they knew exactly what I needed and how to care for me during a horrendous situation. My phlebotomist, Nigel Thomas, demonstrated amazing attentiveness to all of his patients. This made me confident Nigel would quickly appear to attend to my IV monitor and its alarm.
Also in the ED, Kevin Eanes, MD, alleviated not only my pain, but also my fear of what was happening and my apprehension over the various procedures I would be going through. Dr. Eanes made everything crystal clear and very palatable.
RN Brian Mathe went above and beyond to make sure I did not feel like just one more patient on his shift. Brian and I encountered each other several times throughout my journey at Beebe, and he always displayed concern and care for how I was doing - even after I was past his charge. It was extremely obvious that Brian's care was genuine on all levels.
When I was moved to 2 Central, I continued to receive excellent care from more amazing Beebe nurses. Logan Vitolo, RN, eased my pain on so many different levels; not only my physical pain, by administering the proper medication, but also with her incredible humor and easy personality. Logan kept me both pain free and able to smile.
RN Cristina Bailon-Tabaco was so diligent and incredibly compassionate. Cristina's attentiveness helped me through my journey, gave me comfort, and made me thankful that I had somebody so professional taking care of me.
Tania Sturgis, CNA, was constantly there to check on me and ensure that I was OK. Tania's conversation and smile gave me great comfort and also helped ease my pain.
I cannot say enough how grateful I am for all of the professional and caring people I encountered along my healing journey with Beebe Healthcare.
---