Celebrating Excellent Care at Beebe's South Coastal Cancer Center
Image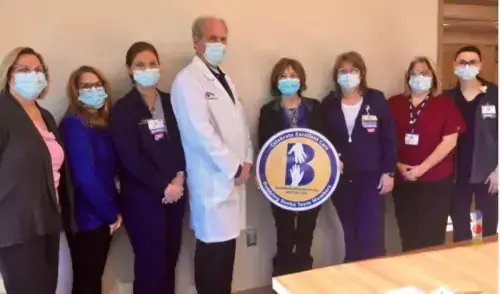 By Alicia Beach
In December 2020, a letter that I had written to the editor of the Cape Gazette newspaper was published.  The letter expressed my gratitude for the care I received at Beebe Healthcare's new South Coastal Cancer Center, so I am pleased to celebrate the excellent care I received again here.
As background, I am a 68-year-old woman recently diagnosed with stage 4 pancreatic cancer. For most of my career I advocated for my geriatric clients' healthcare needs. I managed government aging programs both in Arizona and Montgomery County, Md., and completed my career in private care management.
This very rewarding work allowed me to advocate for my clients with the healthcare system, work with their doctors and families, and ensure they received the best care with minimal stress.
When I received my diagnosis, I immediately went into the care of a cancer center, part of a healthcare system that I had idolized as a world-renowned research hospital. Sadly, my condition quickly deteriorated. Unfortunately, I was not feeling the attentive care that I had insisted on for my clients. I knew the difference between attentiveness and lost in the cracks. 
Residing in the Bethany area, I decided to look into Beebe's new South Coastal Cancer Center. After speaking with Beebe's Oncology Nurse Manager Ella-Mae Shupe, who helped me choose a highly experienced Beebe medical oncologist, I switched my care to Beebe. Beebe often does work and communicate with many other cancer research centers.
At the center I found an extremely devoted team of professionals now caring about me and caring for me. Beebe has provided very close monitoring, an excellent medical oncologist, Dr. William Ryan, and a team of specialized oncology RNs who are so warm and concerned; they all feel like good friends and family. The new cancer center is very comfortable and beautiful, and a very nice place to spend several hours a day even if it's for chemotherapy. 
In the Infusion Suite, the placement of the charming chairs and beds (if you prefer to nap) is very comfortable. Large windows display pretty views of the lovely healing garden. My nurses are always warm, encouraging and cheerful, and tender when you need that. They will always check in to answer questions or advocate if you have any concerns.  The lighting is bright and cheerful, but the nurses will dim the lights if you feel like napping. It's actually a nice place to spend an afternoon. If you prefer to watch a movie or CNN, you have your TV and remote control. They order a nutritious lunch for you, and will always provide you with snacks and warm blankets if you feel like resting. It's so comfortable, and the infusion time passes quickly. 
When I entered the door at Beebe's South Coastal Cancer Center for my second treatment, Gail greeted me warmly by name, and the wonderful RNs Michelle and Audrey remembered my favorite chemo room. Brandi, who does my lab work, is friendly and quite adept with my bad veins! This is very nice when a patient is going through the stress of cancer treatment. However, what most impressed me was their management of my health, paying attention to lab work that affects a cancer patient's outcome such as proper hydration, blood counts for anemia, and close monitoring. 
I am grateful for the excellent care I have and continue to receive at Beebe. Switching to Beebe South Coastal Cancer Center literally did save my life!
As a community-based, not-for-profit healthcare system, Beebe Healthcare depends on the generous support of the community it serves. To make a gift to celebrate the excellent care you or a loved one has received, please visit Beebe Medical Foundation at www.beebemedicalfoundation.org or call 302-644-2900.
---