Completing the Circle of Care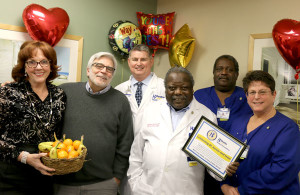 Michael Messitt's experience started as a volunteer with the Beebe Medical Foundation. Mike has been instrumental in writing grant applications to advance the care and services provided by Beebe Healthcare. This September, Mike's relationship with Beebe took a giant leap forward, when Dr. M. Ray Kuretu and his team saved Mike's life with a triple cardiac bypass. Mike's story is nothing short of amazing.
"I had no idea that I had two blocked arteries until the day before my surgery. I have to say that now, three months later, looking back at the progress I have made, I believe that I couldn't have asked for any better care. I can't say enough about the medical staff, nursing staff, and support staff at Beebe Healthcare. They have been fantastic and they give you the personal touch that you so want as a patient."
Mike's wife Lorraine added, "Mike just went in for a cardiac catheterization when we learned that he needed immediate bypass surgery. In retrospect now, it was very shocking at the time, but, as I think back to it, it just went so smoothly. They took care of everything, including us emotionally, they got Mike prepped and ready to go. They were very kind and they took the time to explain, every step of the way, everything that Mike would be going through. I had some nurses and doctors sit with me and calmly tell me what I should expect, as his wife, and they were absolutely right. This helped make it a good experience for me as well. Now I can say this, and breathe a sigh of relief."
Mike opened up about his memories of the time he spent at Beebe. "There's a certain element of fear when you awake from anesthesia and you have no idea of what's coming next. But, the staff at Beebe are very good at giving you the truth, that you're not the only one that's been through this," Mike said. "They told me, 'We know what we're doing and we are going to see you though this.' One staff member on the heart team was talking with me about what it would be like, going through this for the first couple of days, and I made a pact with her, I said, 'I will do everything that you ask of me' and she said, 'If you do that, we will get you home earlier,' and she did. I was out of the hospital in four and a half days.
"I really respected the quality and skill of all of the staff, from the medical staff, Dr. Kuretu's nursing staff, all of the support staff; it's something to marvel at, I have to say. The level of professionalism and courtesy that staff displays to patients, and our family and friends that came to visit, is something very special."
Lorraine reflected and shared, "We both had a misconception about small hospitals, but I was just so pleasantly pleased at Beebe. Ours was a warmer, more personal experience than the larger hospital experience that I have seen in the past. Everyone explained things step by step and it wasn't an impersonal situation. This was different. I encountered people who were working with me, explaining things and providing Mike with really great hands on care; and they still are, two months out."
Mike continued, "I had not only great hospital care, but very hands-on home care from Beebe Home Care nurses and occupational therapists, who got me on the right path for my recovery. My cardiac rehab has continued with the Ornish Lifestyle Medicine program on Route 24. It is a great nine-week program designed to get me back in shape, even better shape, than when I walked in."
For the past two years, Lorraine has served as a volunteer with the Ornish program. "I'm a graduate. It was very important to me to go there and participate each day as part of my cohort. When I graduated I thought this is something I need to stay with and stick with, but more importantly, I thought I could help other people by showing them what to do. My particular job is in the gym, I help with the exercise component of the program. Helping others in the Ornish program is helping me too, because it keeps me on my path to continued good health. Ornish is a lifetime program and it is something I can help others to do too. Helping people to stay on the program is so important for patients and their families. It's all about taking care of yourself wholly through nutrition, exercise, meditation and support. For me, this is a next step on my journey to get even healthier."
As a retired university administrator with years of experience working on research grants, Mike was looking for an opportunity to apply his skills and experience in a community setting. "It was probably because of Lorraine's experience, she's a real supporter of Beebe Healthcare, and all of its parts. Lorraine's enthusiasm triggered me to go out and work with the Beebe Medical Foundation. I've been working on grants that impact the cardiac and vascular service line at Beebe Healthcare. To be of assistance to the Foundation, to help raise money for these services, is very rewarding to me. I started as a volunteer and then made use of the services that Beebe provides as a patient. It gave me a unique perspective and I have a new appreciation for the impact of the grants we have received.
"One of the things that's important for a growing community is its health care system. Lorraine and I have both taken advantage of the care at Beebe and it is important for us to give back whatever we can. I have had a life-long respect for people who do good things for other people, who give, not only of their financial resources, but also of their time. I have always understood the benefits of giving, and now I have personally experienced those benefits through the care that is provided for patients at Beebe."
Mike and Lorraine Messitt are both members of Beebe Medical Foundation's 1916 Club. Lorraine also made a generous gift to Celebrate the Excellent Care she and Mike received from everyone at Beebe Healthcare: Dr. M. Ray Kuretu, Cardiothoracic Surgeon; Brian McCarthy, Cardiothoracic Surgery Physician's Assistant; Alice May Isidro, Cardiothoracic Surgery Physician's Assistant; the Intensive Care Unit Nursing Care team; Beebe Healthcare's Home Care team; the Cardiac Rehab team and the Ornish Lifestyle Medicine program team. Find out more about Cardiac Rehab and Ornish Lifestyle Medicine.
As a community-based, not-for-profit healthcare system, Beebe Healthcare depends on the generous support of individuals, corporations, businesses, and private foundations. All gifts to Beebe Healthcare, large or small, are tax-deductible and are channeled through Beebe Medical Foundation. Please consider making a gift today and sharing your story with our community.
Photo Caption: (Shown left to right): Lorraine and Mike Messitt, Brian McCarthy, Cardiac Surgery Physician Assistant; Dr. M. Ray Kuretu, Cardio Thoracic Surgeon; Bob Capers, Medical Assistant; and Moira Quint, Office Manager
---