Excellent Emergency Care for my Son at Beebe
Image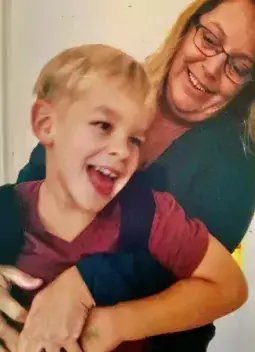 Written by Wanda Burke and submitted to Beebe Medical Foundation
My son, Nathan, hurt himself in our home July 20. We had to rush him to Beebe's Emergency Department in Lewes.
He ended up being OK, but what happened during that visit made an indelible impression on me and our family.
Here's why, on Sept. 11, 2018, we adopted Nathan as a 6-1/2-year-old, special needs child. I am a special education professional. I had begun fostering Nathan when he was 4 1/2 years old to offer his parents a helping hand. Their nonverbal child was still in diapers and his behavior was, in a word, bad.
Nathan consistently "acted out" and was difficult to manage, but while I fostered him, he began to improve. Long story short, he became part of our family emotionally, so we formalized the relationship via adoption. We are blessed. Nathan has taught us as much as we have taught him, and my husband, Kevin, and older kids are great support.
However, on July 20, Nathan, who does not cry, became emotional after a fall at the house. He had gone down hard while trying to sit atop a TV tray and was having a meltdown. We headed to Beebe's Emergency Department for help as Nathan held a chilled water bottle on his hand.
Ron Whitsel, RN, came out to greet us. He and guest relations attendant Sheleigh Knollinger were amazing. Nathan was in a new place, and he was reacting badly. The staff immediately noticed our issue and ushered us into a private room. Someone even came in and put SpongeBob on the TV for our son.
From Brook Jackson, RN, who checked us in at the main entrance, to X-ray tech Dylan Darby, to our nurses Nancy Taylor and Crystal Dimattia and our ED physician Dr. Arthur Pecora, every single person that interacted with us made Nathan feel at ease. Literally, everyone was terrific.
Since Nathan is autistic and nonverbal, I never know how people will react to him, but Beebe's ED staff – unaware that we would be visitors relying on their care that night – were exceptional. I was amazed that they did not judge or treat our son differently. Their kindness was above and beyond.
I'm grateful for Beebe Healthcare. It's easy see why they are ranked at the top of their class. They gave me, my husband and our son the best possible care. And while their care made my heart happy, the best was that Nathan actually waved "bye" to everyone when we left!  
It doesn't get any better than that for me and my family. Thank you, Beebe.
As a community-based, not-for-profit healthcare system, Beebe Healthcare depends on the generous support of the community it serves. To make a gift to celebrate the excellent care you or a loved one has received, visit Beebe Medical Foundation at www.beebemedicalfoundation.org or call 302-644-2900. Send your story about excellent care at Beebe to Amanda Neal at [email protected].
 
---