GRATEFUL FOR MY COWORKERS AND EXCELLENT CARE AT BEEBE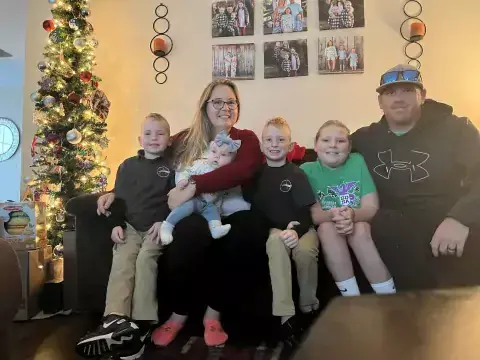 By Rachel Duncan
This is a letter of thanks and gratitude to Beebe Healthcare for its partnership with AI Dupont (now Nemours Children's Health) that facilitated and streamlined care for my 3-month-old daughter, Ralynns, when she was recently hospitalized with a Respiratory Syncytial Virus (RSV) infection.
As a Beebe Team Member, this is also a letter of expressing my gratitude to each and every one of my fellow team members whose compassion, kindness and care for both Ralynns and me was beyond exceptional and so very appreciated. Here is my story.
November 7th was my first day back at Beebe from maternity leave and my mother-in-law was keeping Ralynns. Although I had brought Ralynns to Beebe's Emergency Department (ED) the day before and she had tested positive for RSV, she was doing ok. I was glad to get home to Ralynns after work but as the day turned into evening, I felt that I was hearing a change in Ralynns' breathing. By the late evening, my husband and I decided that we needed to take her back to the ED and I am so very glad that we did.
Thankfully, our ED team was the same. Dr. Hilton was working the ED and Dr. Ngido was on call. Both rushed to care for Ralynns, reassuring us that our decision to bring her in was a good one. Ralynns was admitted to a room on the 2nd floor and that's when we met nurses Liz Smith, RN, and Brooke Talbot, RN. Both were exceptional. They checked on Ralynns and me constantly, making sure that both of us were resting as well as possible and that we had everything we needed. Their caring extended to reassuring me that it was ok for me to step away for a moment on occasion just to "breathe".
A few days into our stay at Beebe, my husband had just left to pick up our other children from school when Ralynns' condition worsened. Her breathing changed, and she stopped latching to breastfeed. The nursing team and Kaustuv DE, MD decided that an IV needed to be started to make sure Ralynns stayed hydrated. At first, I wanted to stay in the room with my baby but decided the procedure was just too much for me to see at that time. I walked out to sit in one of the family waiting areas and began to cry. One of Beebe's environmental services workers stopped to see if I needed anything, and I was grateful for her compassion. I don't know this incredible woman's name, but she was sitting with me when I saw the Rapid Response Team rush into Ralynns' room. At this point I was sobbing, and she stayed to comfort me. I hope she sees this article and knows how grateful I am for her kindness.
Thankfully, the Response Team came out quickly to let me know that Ralynns was ok. They had started her on a Bi-Pap to help her breathe and she was sedated. Our care team then calmly informed me that Ralynns would need to be transferred to Nemours Children's Health in Wilmington, DE. They carefully explained the options for transferring her and, after a call with my husband, Dr. DE arranged for an ambulance transfer for her. I am beyond grateful that nurse Liz stayed 3 hours after her shift ended to be with and comfort Ralynns (who she kept referring to as her "pumpkin") and me.
Actually, I want to thank the entire care team, including Derek Eckenrode, RN, Melanie Gale, RN, Ryan Gray, RN, Angela Jewett, RN, Taryn Kelley, RN, Lauren Lowe, RN, Lindsay Lyman, RN, Cheryl Palmer, RN, Theresa Polite, Julie Short, RN, Taylor Spears, RN, Cassidy Stenger, RN, James Telep, MD, Amy Bonkowski, RN, Nancy Forsyth, NNP, and Taylor White, RN. Because of you, I never felt alone, unclear about the care that our daughter was receiving or what next steps were going to be. A very personal thank you goes to Patrick Donovan, Carrie Snyder, Shelby Coon and Michael Patrick for their kind compassion.
I also want to thank Beebe again too. Because of Beebe and the well-executed partnership with Nemours Children's Health, we felt confident every step of the way with Ralynns' transfer. Everything felt calm and collaborative. We are so grateful. If I have missed naming anyone, I sincerely apologize. Please know how grateful I am for all of the care we received.
My last THANK YOU goes out to fellow Beebe Team Members, Jamie Devine, Brooke Johnson, Jessica Sockriter, Nancy Jones, Suzanne McLean and Russell Johnson. These amazing people, knowing that I had exhausted my bank of time-off hours during maternity leave, began donating their personal leave time to me so that I could stay with Ralynns during her hospitalization. It is truly amazing to be a part of this "family" at Beebe Healthcare. And family is what life is all about.
My family and I have a lot to be thankful for this holiday season. I am elated to report that Ralynns is doing well. She came home on November 12th and is recovering wonderfully. We are thankful that we live in this community and, I'm so very thankful that I work with so many wonderful people who provide excellent care to Beebe patients and their families every day.
As a community-based, not-for-profit healthcare system, Beebe Healthcare depends on the generous support of the community it serves. To make a gift to celebrate the excellent care you or a loved one has received, visit Beebe Medical Foundation's webpage or call 302-644-2900. Want to share your story? Contact Amanda Neal at [email protected].
---