New mother appreciates Beebe labor and delivery staff
Image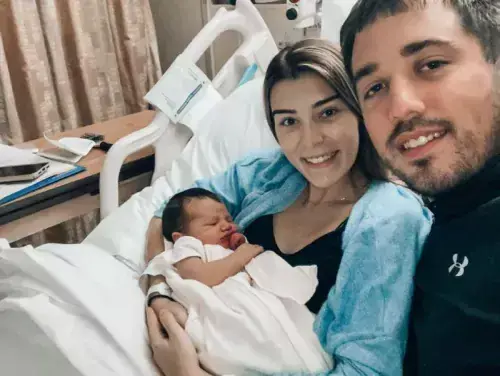 By Alexzandra Cockerham
My overall experience with Beebe was great! From the folks who greeted us at the door on our way in, to those who said goodbye on our way out, everyone was so kind. 
 
When I first arrived at the labor and delivery unit, I was having some pretty painful contractions. Dr. Russell White came in to see me and was very calming. He even slid in a few jokes, which took my mind off the pain for a few seconds. He was honest about everything, and respectful of the decisions my husband and I made for both my and our son's care. I knew I was in good hands!
 
Being a first-time mom, I was unsure what to expect when going into labor, especially during a global pandemic. Dr. White and the rest of the labor and delivery staff put me at ease from the moment I arrived, reassuring me that everything was going to be just fine. 
 
Once I was admitted, nurse Lisa Hudson's shift began. From the moment she started to the time her shift was over, Lisa was attentive to my every need. 
 
Because of COVID-19 restrictions, I could only have my husband in my room with me. My mom waited patiently outside in the hospital parking lot, receiving updates via text and phone calls. I was so nervous going into labor, knowing my mom wouldn't be by my side, encouraging and reassuring me.
Nurse Lisa did an amazing job filling those shoes, though. Whenever I felt anxious, she would answer my questions and calmly explain everything. I am so thankful that Lisa was there, calm and reassuring, throughout my delivery. When it was time to push, Lisa (and of course my dear husband) turned into my personal cheerleaders and coaches, cheering me on and encouraging me every step of the way! I don't think I would've been as calm and confident in myself if Lisa hadn't been there helping me out.
 
Nurse Jennifer Rice took over for Lisa. Amazing as well, Jennifer helped me up and out of bed, and over to our recovery room. She was incredibly kind and compassionate. 
 
Nurse Deb Wright took great care of us in recovery. She became our personal photographer, even bringing in a few different blankets for us to use as photo backgrounds for our new bundle of joy! Deb gave such great advice, and I really felt like I was talking to a friend when asking all my questions and even just chatting throughout the day. 
 
I could go on and on about how great everyone truly was. I wish I could remember everyone's names to recognize them! I felt that all of my nurses advocated for me. I never felt unsure of anything.When you combine a global pandemic with being a first-time mom, the uncertainty and anxiety can be pretty intense. No childbirth class can prepare you for it. It was hard to feel confident about bringing something so tiny and fragile into a COVID-19 world, but once we were at Beebe, we felt amazingly safe and ready to meet our little boy! 
 
As the holidays approach, my family has many things to be thankful for this year. Among them are the staff at Beebe who took on extra roles, from cheerleaders to photographers, and truly provided excellent care to me and my family. I hope I don't have to deliver during a pandemic again, but in the off chance I do, I know I will be in great hands at Beebe. 
 
As a community-based, not-for-profit healthcare system, Beebe Healthcare depends on the generous support of the community it serves. To make a gift to celebrate the excellent care you or a loved one has received, visit Beebe Medical Foundation at beebemedicalfoundation.org or call 302-644-2900. Want to share your story? Contact Amanda Neal at [email protected].
Caption: Alexzandra and Christopher Cockerham with their new son, Jackson, celebrate the excellent care they received at Beebe. 
---