So many ways I received excellent care at Beebe
By Sharon Mack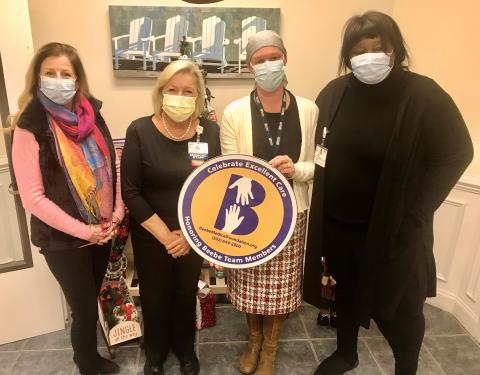 After a routine mammogram in April, I had to have a lump biopsied. A few days later, I received the call that no one ever wants to receive. I had breast cancer.  Initially, of course, I was in shock. I knew my life had just been changed for the foreseeable future and it was very difficult to process. I am the proud mother of three children. I have a wonderful, loving fiancé, an incredible family and I had just started a new position with Beebe Healthcare as a Health Coach in the Population Health department. Dealing with a cancer diagnosis was not a part of my life "plan" – and I was scared. I am writing this message today to express my gratitude for the many ways I have and continue to receive excellent care at Beebe.
Even though I was feeling completely overwhelmed by my diagnosis, I knew I needed to get treatment started immediately. I had my primary care doctor to refer me to Dr. Diana Dickson-Witmer, Beebe's breast surgeon and the head of the hospital's Center for Breast Health. I had studied Dr. Dickson-Witmer's credentials and had seen videos featuring her – I knew I wanted her as my surgeon. So, within five days of my diagnosis, my mother and father drove my fiancé and me to Beebe's new South Coastal Cancer Center to meet with Dr. Dickson-Witmer. I remember it was a bright, sunny day and I can still feel the fear and nervousness that consumed me. I also remember my first glimpse of the beautiful and well-maintained, South Coastal Health Campus. Its visual appeal gave me sense of calm and quiet. Parking was a breeze and the building itself felt open and airy. With all the chaos and fear I had within my mind, seeing a medical office look warm and inviting helped me cope and feel more at ease. Thank you, Beebe, for that wonderful facility.
While I don't recall everything that was said in that initial appointment, I do, remember how compassionate and kind Dr. Dickson-Witmer was to me and my family. Her staff also handled my questions and concerns with patience and calm. Dr. Dickson-Witmer was knowledgeable and precise in her explanations, she prepared me correctly when, in her wonderful bedside manner, she let me know I was going to have "a long year."
Thankfully, my surgery was completed quickly and efficiently – thank you, Dr. Dickson-Witmer! And a big thank you also to all of my fellow team members who were involved in my surgery and recovery. Special acknowledgement goes to Regina Corbin for the excellent care that she provided. Regina is the scheduling coordinator for breast surgery. She is also extraordinarily peaceful and wonderful beyond words. It may sound corny, but whenever I am around Regina, I feel like I can breathe. Thank you from the bottom of my heart, Regina!  
Last, but certainly not least, I want to express my eternal gratitude to my teammates in Beebe's Population Health department. Being new at Beebe, I had not accrued enough paid leave to carry me through my surgery and treatment time off. This meant I would need to take my surgery and recovery time as unpaid leave. In an incredible act of kindness and generosity, many of my coworkers donated their personal leave time to me. Kim Blanch, Director of Population Health/Community Outreach, and Ngozi Azuogu, Data Activation Specialist, were instrumental in organizing donated time. This helped offset the financial impact to my family of my not being able to work. I am so blessed to be part of Beebe and so grateful to be part of the incredible Population Health team. My family and I are amazed and humbled by the kindness my teammates showed to us.
As of the date of this message, I have completed several rounds of chemotherapy and am now in radiation treatment at Beebe's Tunnell Cancer Center in Rehoboth, which is closer to where I live. I always receive excellent care from everyone at Tunnell as well – thanks so much to the entire staff there for all that they do every day. I am grateful for the many ways that I have received excellent care at Beebe!
---