Something Extraordinary About Team Beebe
By Barbara Jadick
In 2019, my husband John was diagnosed with colon cancer after a colonoscopy at Beebe Gastroenterology. We were completely stunned, but John's gastroenterologist could not have been more kind. Our questions were patiently answered, and we were able to secure an appointment with surgeon Mark Facciolo, DO, before we left the colonoscopy appointment. This was just the beginning of the excellent care we experienced at Beebe.
Dr. Facciolo was beyond impressive. Knowledgeable and personable, he made us feel safe and comfortable. In an effort to shrink the tumor before surgery, Dr. Facciolo directed us to Beebe's Oncology Services for chemotherapy and radiation. At the Tunnell Cancer Center, John and I experienced more excellent care. Without exception, everyone we encountered was wonderful, from our oncologist, Nisarg Desai, MD, to the nurses, technicians, reception and dietary staff. Even the classes at Tunnell were facilitated by caring and knowledgeable personnel.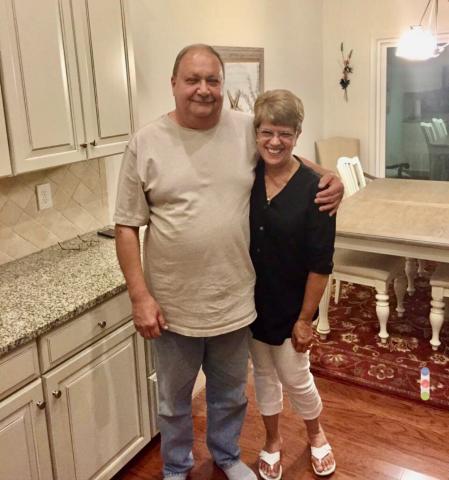 After chemo and radiation, John's CT scan caused further concern. The location of his tumor meant the possibility of a colostomy bag. We were scared. Dr. Facciolo listened to our concerns and invited us to his office after hours to discuss all the possible outcomes. He reassured us that he and James Spellman, MD, FACS, would work together with urologists Richard C. Paul, MD, and Delbert Kwan, MD, the day of the surgery to determine the exact post-surgery requirements. We felt cared for, and more importantly, heard.
The same CT scan also revealed that John had heart disease and would need pre-surgery clearance from a cardiologist. We were referred to Mouhanad Freih, MD. Dr. Freih was concerned by John's heart disease, and he went the extra mile with us, asking John to come back to his office at the end of the day for an echocardiogram. We were nervous but grateful for this extra care and attention. We were relieved when Dr. Freih cleared John for surgery. Dr. Freih also noticed that John had an aortic abdominal aneurysm that was not large enough for surgery. He referred John to Carlos Neves, MD, a vascular surgeon, for continued monitoring. After John's cancer surgery, we went to Dr. Neves' office and met Ellen Purple, NP, who was wonderful. When we met with Dr. Neves later, he gave us his personal cellphone number and said we could call anytime. How remarkable.
Excellent care from Beebe continued the day of John's surgery. While Dr. Facciolo, Dr. Spellman and Dr. Kwan were hard at work, the operating room nurse kept me informed. Her care and communication with me made the waiting and anticipation so much less distressing. Thankfully, the surgery went well, and John was sent home with a temporary colostomy bag. Beebe's Home Care team joined us for his recovery, and they were beyond exceptional.
By sharing our story, John and I simply wanted to let Beebe know that we are ecstatic with the care that we both received there. John having cancer, heart disease, and an AAA was challenging, but we could not have asked for better doctors and nurses. We feel blessed – and that says something extraordinary about Beebe.
John's temporary colostomy was reversed in early 2020. Also, at his last colonoscopy, we learned that John is cancer-free, and we are delighted!
Although I was nervous to leave the excellent care we were receiving at Beebe, John and I decided to move back to South Carolina. When we spoke to our Beebe care team, they were all completely supportive, offering to coordinate care and transfer records to our new care team in South Carolina.
So, this is my note of thanks, to the doctors whom I've named here and for all of Team Beebe who cared for John and me during his diagnosis and recovery! Truly excellent care was given to us at every turn at Beebe. This is a unique, personal, caring hospital system, and we are eternally grateful for all of you.
---